From Nagoya, we realised that there was no direct train to Mt. Fuji, for obvious reasons. Climbing up the mountain side would require a bus.
Since we were coming from Nagoya, we had to catch the Shinkansen Nagoya to Mishima Station (1:50 hour ride), then from Mishima, there were daily bus services from Nagoya to Kawaguchiko Station.
The bus ride took around 2.5 hours, and cost us ¥5400 for two persons. This was obviously not covered by our JR passes. Later we would catch the bus from this same point at Kawaguchiko Station, to Shinjuku bus terminal in Tokyo, arriving a day before the Tokyo Marathon.
If you are coming from the opposite direction, i.e. Tokyo, the Fujikyu and Keio Bus operate one to two direct buses per hour from Tokyo's Shinjuku Station (Keio Highway Bus Terminal) to Kawaguchiko Station in the Fuji Five Lakes region. The one way journey takes about two hours and costs ¥1750 per person.
The retro buses are generally the easiest way for tourists to get around. There are two lines starting from Kawaguchiko Station: the Kawaguchiko Line runs along the eastern and northern shores of Lake Kawaguchiko, while the Saiko-Aokigahara Line runs along the southern shore of Lake Kawaguchiko and around Lake Saiko. A 2-day pass for unlimited use of the Kawaguchiko Line on two consecutive calendar days costs ¥1030, while a 2-day pass for both retro bus lines costs ¥1340.
If you want to have a true glimpse into Japanese culture, tradition and natural beauty then you really need to stay at a traditional styled Japanese lodging known as Ryokan, eat a Kaiseki Meal, and and experience an Onsen(hotspring). Oh, and of course sighting the gorgeous, iconic Mt Fuji should be on your list of things to do as well. For us, that included a run around Lake Kawaguchi, of course! The Kawaguchiko area is considered the most developed of the resort areas in the Mount Fuji area with many attractions, from museums to lake cruises.
Mount Fuji is actually surrounded by five lakes which are called Fujigoko (Five Fuji Lakes), Lake Kawaguchi being the most popular and where tons of photographers can be spotted trying to get a shot of that illusive volcano peak.
The lake area is gorgeous and lush, thanks to the fertile soil produced by volcano activity of Mount Fuji. So, for us, the obvious choice when booking with Agoda, was none other than Fuji Onsenji Yumedono – a luxurious Ryokan, or Japanese style inn, located in the Kawaguchi resort area near Mount Fuji in Japan.
There was a free shuttle service which picked us up from Kawaguchiko station and dropped us at the hotel. Though it was only 10 minutes away, this was a huge welcome, as this area is distinctly colder than our past stops. It actually snowed in some parts and the weather forecast said  -1°C at night and 5°C during the day.
Arriving at the Fuji Onsenji Yumedono in the evening, we fell in love with the ambiance of our living quarters, our weary limbs comforted by the glow coming from inside the traditional ryokan. It looked inviting and warm and we couldn't wait the get settled in and have our first Kaiseki dinner. Our charming hostess, clad in traditional yukata, greeted us at our quarters, and after explaining to us how everything worked, she registered us on the spot, in the comfort of our own room.
We exchanged our winter boots, for slippers, as the flooring is mainly wood or tatami styled.. this is to ensure you don't damage their floors with your chunky heels.
As well as being known as a splendid private Onsen or hot springs, in the backyard of your hotel room, the service personal were very professional too. We had two different ladies serve us on different nights. Both were efficient and polite. They lady who registered us was more proficient in English, but we still managed to communicate fine, throughout the course of our stay, This hotel is also famed for their excellent Japanese cuisine, something we were rather looking forward to. You can select breakfast only for your stay, but in our case, we selected for both breakfast and dinner meals with the room.
The appearance of this Ryokan is in the old Japanese castle style. So, basically it's getting down to floor level.. a lot. Tables, chairs and pillows are all at floor level. You need to get used to stooping every time you need something. At some point I actually developed a slight backache as I was not used to this practice!
Welcome drinks and snacks before dinner…
Outside the steaming onsen was beckoning me to its steamy, limpid depths. It would have to wait till after dinner. I did however check out the temperature with my toes and found it not hot enough. You can actually ask the hotel to turn up the heat, and that's exactly what I did. I love my Onsen boiling hot!
Anyway, every guestroom has its own private open-air bathroom or Onsen(hot springs) and it truly is the perfect place to enjoy some sensual Japanese rituals of relaxation without any disturbances. They even give you a his and hers yukata to get into the spirit of things. Like my yellow yukata? 🙂
The Japanese word 'yume' means dream and 'dono' means palace and staying at this Ryokan was indeed a dream experience. And oh the food! We highly recommend this place to all travelers.
Our dinner on the first night was an immaculately crafted, exquisite Kaiseki style dinner.
seasonal appetizer to whet the appetite.. 
It consisted of .. abalone sake, crab claw, cauliflower and herring spawn on kelp – just sublime! 
Also, monkfish liver… an acquired taste but I loved it!
And a somewhat puny glass of umeshu .. the sweet tartness of the plum complemented the fishy flavours so well, but I could have done with more!
Then came the Sashimi of Maguro, Hirame and Amaebi.. Succulent and exquisite slices of Tuna, Flounder and Shrimp really hit the spot..
Loved the next miso infused grilled fish dish, the Gindara Saikyouyaki, i.e. Sable fish (Black Cod) Saikyouyaki that was flaky, yet smooth with unctuousness. Every fatty mouthful a pleasure to swallow.
Speaking of fat, this next beef steak course was the bomb. Like I said, move aside Kobe beef.. even Kyushu beef is every bit as marbled and every bit as delicious.
Kyushu Gyusteak .. are gyu gonna finish it all in one sitting? 🙂
Enter the Zitori Tumirenabe – chicken minced fish pot..
Loaded with yummy proteins and a intoxicating sweetness from the leeks, straw mushrooms and carrots, the soup was just amazing..
Later, our hostess made a Japanese risotto from the sweet stock by adding rice, seaweed, chives, raw egg to the pot and reducing the stock even further till it became a thick and gooey consistency.
fabulous rice dish that ushered the kaiseki dinner to a close .. not counting the calories! 
Dessert of almond jelly, cake roll and strawberry.. ate till we could eat no more..
Then it was time to catch some Z's. But not before the space was converted into our sleeping quarters. The staff were super zippy and put our bed together in under 5 minutes.
Admiring how comfortable the bed looked!
It was incredibly comfortable.. so much so that I found it hard to get up for breakfast!
But then, soon the aroma of food from the adjacent room beckoned me to get up, and to fill my stomach once more…
wow, it was like the eating never stopped! 
Our hostess introduces the dishes and chats with us a bit about the weather, Fuji-san, what we might do today after breakfast..
We had morning dimsum, grilled fish, hard boiled onsen eggs, rice, miso soup, tofu, chawan mushi, radish, mushroom, pickles and finally fruit, which we enjoyed by the onsen.
Any excuse to dip in the onsen!
After breakfast on the first morning, we decided to go for a run and hike around Lake Kawaguchiko and to try and get some shots of Fujisan. Afterall, wasn't that one of the main purposes of this journey.. to catch her twinkling in the bright sunlight?
Gearing up, and after some warm up stretching.. we are off!
Yippee.. so happy to be running here! 
It was approximately 5°C that day, warming up in the afternoon. There were patches of snow on the ground indicating that it had probably snowed the night before, but the sun soon melted the ice in patches. We had to be careful how we ran so we wouldn't slip on the icy bits.
The beauty of the solitary, snow-capped, stratovolcano, is hard to describe. Words fail me, gazing upon it's majestic figure, rising above villages and tree-fringed sea and lakes, that has long been the object of pilgrimages and inspired artists and poets.
In the 12th century, Fujisan became the centre of training for ascetic Buddhism, which included Shinto elements. On the upper 1,500-metre tier of the 3,776m mountain, pilgrim routes and crater shrines have been inscribed alongside sites around the base of the mountain including Sengen-jinja shrines, Oshi lodging houses, and natural volcanic features such as lava tree moulds, lakes, springs and waterfalls, which are revered as sacred.
Its representation in Japanese art goes back to the 11th century, but 19th century woodblock prints of views, including those from sand beaches with pine tree groves have made Fujisan an internationally recognized icon of Japan and have had a deep impact on the development of Western art.
Cumi hiked up to a high point overlooking Mt Fuji and Lake Kawaguchiko
Walking across Kawaguchiko-Ohashi bridge towards the east side of the lake, we found a little funfair with ice sculpture displays, snowmobile rides, sledding, and snacks. It was an opportunity to people watch.
Snowman visits Hachiko sculpture, the famous dog known for his faithfulness
Totoro made an appearance for all the happy families
This little girl had exceptional sledding skills. She would slide sideways to stop at the bottom, before hopping off and dragging the sled back to the top, unaided
Little soldiers about to make perfectly round snowballs to protect their newly adopted cave from invaders
Soon to be cave marauder
Kawaguchiko Museum of Art
After a full day of jogging and wandering about, we were famished. A quick shower, an onsen dip and then dressed in our yukatas, we eagerly waited for our dinner while watching the Japanese TV channels.
A different hostess greeted us on this second night. It was to be another Kaiseki feast.
Crispy and still warm from frying, this bread-crumbed oyster was till sweet and succulent inside.
Hamasui – these littleneck clams in its shell in light broth, were comfort food for my starving belly, and I gulped mine down with pleasure .
Sashimi of Maguro, Hokki and Houbou  – Tuna, Surf Clam and Sea Robin. Exquisitely fresh and succulent
Grilled dish of Tsukune – chicken meatball 
Kinki Fish steamed with vegetables – First time this trip we had a whole steamed fish! It was sweet and went perfectly with rice especially since it was swimming in a super sweet fish broth.
Winter time calls for shabu-shabu. This pork shabu shabu was seriously divine. Heartstopping but, divine no less. The sweetness came from raw assorted vegetables, tofu, and paper-thin slices of raw pork cooked in kombu dashi (broth).
The name "Shabu Shabu" comes from the Japanese sound and action of the thinly sliced meat being swished with chopsticks in the hot pot.
Typically Shabu Shabu is served with broth in a donabe ie. earthenware/clay pot on a portal stove. The raw ingredients are served on two plates, one for the meat and one for all the veggies. It's a fun meal since you get to cook it yourself.
Dip the meat in a raw egg of added smoothness.. OMG! Amazingly delicious. It's definitely the best Japanese winter meal to partake in.
Later, we had Rice with crab meat, and ate more veggies cooked in the super sweet shabu shabu broth.
Dessert of Pudding with Maccha green tea, Vanilla and Strawberry
This was one of the most enjoyable legs of the trip, simply because there was a lot of R&R .. and a lot of eating – essentially carbo loading for my run, which was in 2 days time! And the Ryokan is so quaint and authentic, we really highly recommend the Fuji Onsenji Yumedono Ryokan to anybody seeking the entire and complete Mt. Fuji experience.
I was sad to have our final hearty Japanese breakfast at the Ryokan, on the day we were meant to leave for Toyko. But I was also excited about the Marathon. It was with mixed feelings that I devoured our final meal and packed for Tokyo.
Bacon and eggs are my favourite.. but this was literally, bacon and eggs.. in one. So good! 
Simmer dishes of salmon.. served with konnyaku
Fish cake dimsum 
Grapefruit that was tangy and sweet. Any fruit in Japan seemed to be optimally grown for flavor, sweetness and juiciness.

One final dip in the Onsen.. and it was time to go..
Farewell Fuji Onsenji Yumedono Ryokan and Mt. Fuji.. we will miss you..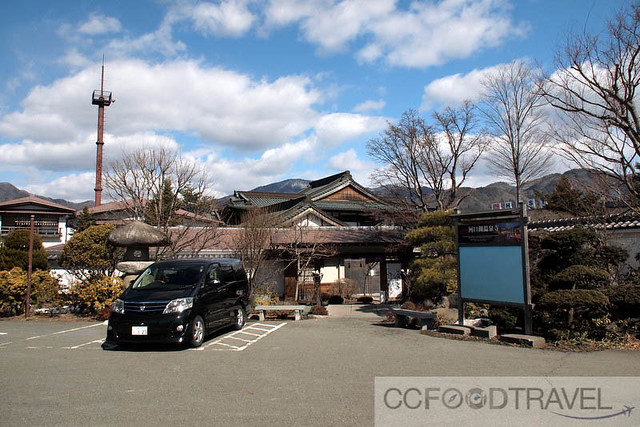 Our complimentary ride to Kawaguchiko Station 
Mt Fuji cheekily peaks out at you, from every corner.. 
Back at Kawaguchiko station, nice and early.. 
Onward to Tokyo! Our ride to Shinjuku station arrived promptly at 9:10am.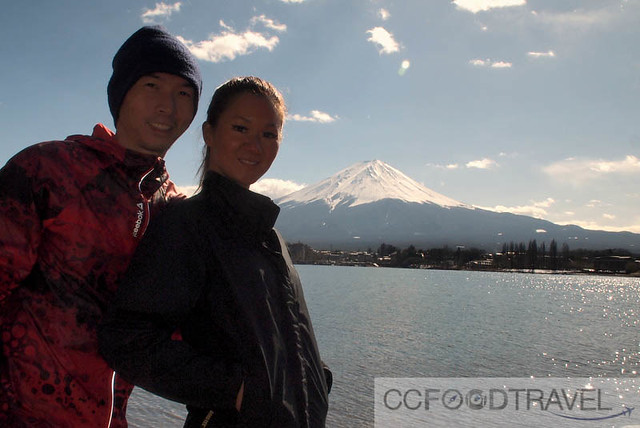 What and epic adventure.. Mt. Fuji.. we won't be forgetting you, anytime soon!
Follow our Journey across Japan thus far…
10 Adventures in Nagoya
10 Ways to Experience Kyoto
10 Things to do in Osaka
How To Navigate Japan's Train & Subway System plus getting 'Connected'
The Sunny Side of Travel Blogging, Part 2 – Tokyo Marathon 2015
Follow me on 
Instagram : @agentcikay
Please show us some FB LOVE, thank you!     Add:
Hotel Onsenji Yumedono Ryokan
6677 Funatsu, Fujikawaguchiko, Minamitsuru District,
Yamanashi Prefecture, Japan
Phone:+81 555-72-6111