Plot
While working on a school project with Karen (Lily Collins), Nathan Price (Taylor Lautner) stumbles on picture of himself as a young boy on a website for missing persons. He realizes his parents might not be his own and that his life may be fabricated to hide something more mysterious and dangerous. Just as he begins to piece together his true identity, Nathan is targeted by a team of trained killers, forcing him to be on the run, with the only person he can trust, Karen. Every second counts as Nathan and Karen race to evade an army of assassins and federal operatives.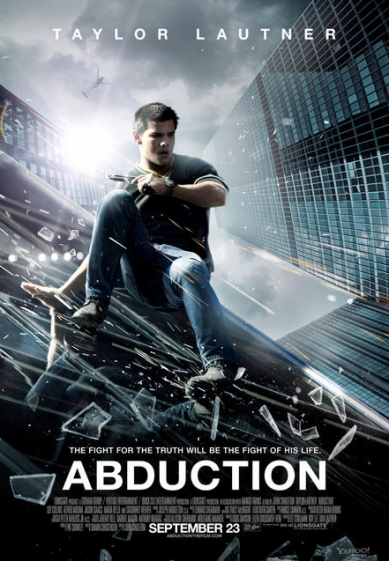 Release Date: 23 September 2011
Cumi's Little Say..
John Singleton, most famous (amongst the current generation) for directing the blockbuster 2 Fast 2 Furious has helmed the director's seat for Abduction starring "Mr.Abs" Taylor Lautner, Lily Collins, Sigourney Weaver, and Michael Nyqvist. With most action films, you are expected to suspend disbelief and with a director who brought you the thrills and spills of 2 Fast 2 Furious and Four Brothers (Mark Walhberg), you know what you need to do – leave the logic to your computer and you'll have a good time watching this. There is decent enough action on this flick as Lautner gets to show off his karate skills, flex his muscular arms, sexy stare (..just to women) and put on tight t-shirts that Simon Cowell would die for. Ladies wanting to catch a glimpse of his abdomens maybe disappointed as there is no nudity is this film. I suspect his abs have a contract with the Twilight series and can only be revealed there.  Also, the males will not see any revealing parts of pretty Lily Collins either – just some harmless kissing that's suited to romance novels. Talents of veteran actors, Weaver and Nyqvist are somewhat limited due to the modest screenplay and script. I remember Singleton best for bringing the hood-life to the screen with Boyz in the Hood and Higher Learning.
On a side comment, I think Lily Collins will be setting a new trend for thicker fuller eyebrows. Doesn't appeal to me but may be the fashion world will and the new generation. She reminds me of young Jennifer Connelly – Labyrinth 'era'.
Trailer: