Happy #traveltuesday my wonderful readers! How goes it? Here is my buddy Nellie who hails from Singapore but is living in Spain, with a great Travel Tip on some rather bizarre local food, to perk up your Tuesday, pronto!
From the outrageously tasty seafood paella to the holy grail of all meat, Jámon Iberico (cured ham), Spanish food is an explosion of Mediterranean flavors and colors. But let's shelve aside the conventional dishes, and get slightly off the beaten culinary path.  If you think Spanish food is just tapas, paella and sangria. Think again.
For the adventurous eater, Spain is a paradise packed with bizarre culinary encounters. Don't expect to find explicit fare like sheep's head or grasshoppers, the Spaniards are after all milder eaters in comparison. This list of strange foods in Spain might not appear too daunting for us Asians, but wait till you get your hands on them; you'll see what I mean.
1. Tripe Stew (Callos)
Flickr photo by jlastras
Perhaps the most famous exotic dish in Spain, Callos is a concoction of tripes, internal organs, sausages and basically, all of the unwanted parts of a pig. The Spaniards are a carnivorous bunch of people, consuming more pork than any other countries in the world. Evidently, nothing goes to waste here in Spain, any organs that are unused go right into the pot. Callos was originated in Madrid, so it goes without saying that you'll be able to find the best and most authentic callos in the Spanish capital.
2. Bull's Testicles
Filckr photo by g_squared
Known affectionately as 'criadillas' in Spanish, bull's testicles are quite a delicacy in Spain. Sliced into fillets, the testicles are then pan-fried with garlic, oregano and parsley. In several restaurants, they also cook the testicles on grills, giving it a rather smoky flavor. Bulls symbolize bravery and strength. Like they say, you are what you eat.
Flickr photo by petezin
Crunchy on the inside (imagine biting on cartilage) and slightly fatty on the outside, pig's ears have that unique flavor unlike any other offal dishes.  To attain such refine taste, the ears are cut up into cubes and then deep-fried in pig's oil. Particularly popular in Madrid, the ears are quite a savory snack throughout Spain. Known as orejas (literally meaning 'ears'), this dish is usually served in traditional taverns and tapas bars.
4. Blood Sausages
Flickr photo by ostrosky
Black, ruddy sausages made up of blood, fats and offals are hugely popular among the locals, especially in Southern Spain.  Usually served as a bocadillo (sandwich) or combined with potatoes and fried capsicum, morcilla looks just like any other sausage on the outside. Cut it into half and you'll taste that distinct flavor as well as a tofu-like texture. I'd highly recommend morcillas in the Alpujarras, a cluster of mountainous villages in Andalusia.

5. Cow Brains
Flickr photo by jlastras
Sesos, or cow brains, are usually eaten with bread or rice in Spain. With a mushy texture, the brains have little flavor on its own and are usually accentuated with a constellation of condiments. Mind you, the brain is one of the best sources of healthy oils in animal meat, so if you're healthy conscious, it's time to try out some brains for a change.
About this weeks Guest writer: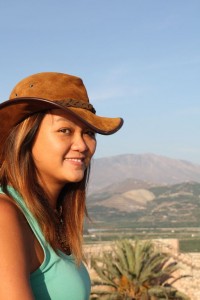 Nellie Huang writes about Spain travel for WhyGoSpain, BootsnAll's comprehensive Spain travel guide.
As a freelance travel writer, Nellie Huang's writing style is characterized by her outlook in life: positivity and passion. A love for the unknown and an eye for adventure have made her a modern-day nomad. Obtaining a degree in Nanyang Technological University (Singapore) and a study program in the University of Miami (U.S.), she writes for a living – combining her wanderlust and love for words.
The Singaporean native currently calls Granada home, and shares her Spain travel tips and anecdotes on Twitter.