Art gallery in Europe? Nope!
Try Eatery in Ipoh… 🙂
Indulgence
Definition: luxury; gratification; pampering; excess; binge; splurge

I say AYE.. all of the above !!
That is precisely what happens at this wonderful restaurant called indulgence !
This place is not new.. but it amazes me every time i dine here, just how extensive the menu and different the food is! As most Ipoh folk hardly pay more than RM10 for breakfast out on the weekend, Indulgence is truly up market and in a dining class of is own.
Speaking to the founder and owner, one Ms Julie Song, the cuizine at indulgence is mainly Italian and Australian (hmmm… i didn't realise that Australian was a type of cuizine..?!)
Anyways, the broader classification – western. A lil of something for everyone .. if u like.. Or.. erm… rojak (?)
Also, what was interesting to me was that Indulgence also has hotel facilities (though limited – 6 rooms or so… ) for an amazing sum of like RM500 per night? Wow… Ipoh really needs some new 5 star hotels… and soon.
Anyway, presenting Indulgence.

Gorgeous open gardens and spaces … makes me want to string a hammock and read a book under the shade of that humongous tree..
Colonial style dining areas.. all white and huge and fabulous..
We were totally psyched for an intense dining experience!
First, they served us bread.
They were oh, so cute.. !
They looked like doughnuts with a cherry tomato in the centre. Like a belly-button !
the lobster bisque was bursting with flavour but on the salty side.
Unfortunately the oysters were totally minuscule… so tiny we couldn't taste them! My colleague said that he would have to eat 50, in order to be any use to his wife… ! hahaha.
i don't remember Australian oysters being this small, to tell you the truth.. hmm…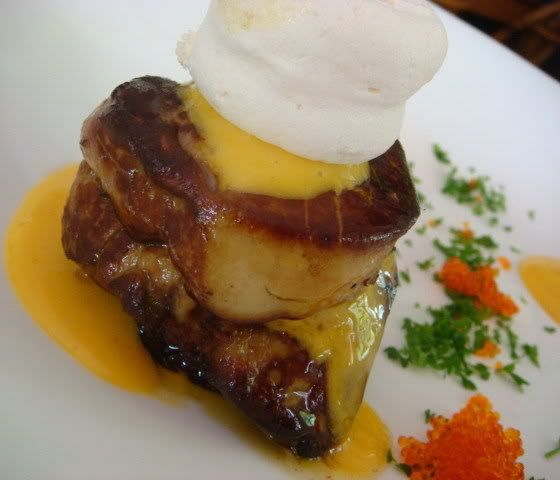 the "duck foie gras" as the menu put it (got us a little perplexed coz we thought that FG was synonymous with goose.. but never mind) … was not bad and went well with the orange cream sauce… however, it lacked that rich voluptuousness of goose FG which so often has me quaking at the knees… (or is that my blocked arteries… ??!! )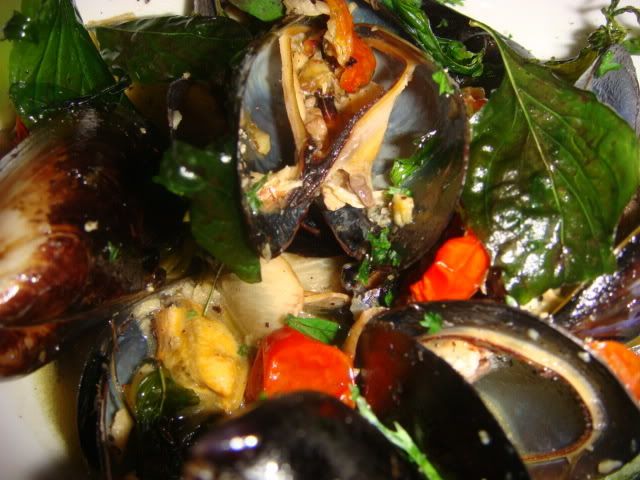 This was my favourite dish from indulgence ! Belgian mussels with white wine! Reminded me of that BELGO's in London! I love, love, love mussels! I love, love, love white wine! Double the pleasure, double the fun… indeed!
Too bad they didn't have Belgian beer to boot.
The lobster was over-cooked. We were not impressed 🙁
But dessert was spectacular.
Many customers come to Indulgence for Dinner, but end up having dessert 1st as it looks so tempting, at the front counter !!

the strawberries with chocolate were fantastic…
and the 'BLACK and WHITE" , which is a hot favourite, was tres scrumplitious… !
Totally worth our time…
The total bill for 2 persons was RM370.00. Pretty steep by KL standards, and needless to say, astronomically expensive by Ipoh standards.
However, indulgence has stood the test of time and is still packed every weekend (according to locals).
It just goes to show, expensive, italian-australian cuizine must certainly fills a dining void in Ipoh..
It certainly must.
Food : 6/10
Ambiance :7/10
Service : good
MSG levels : low
Price : high end
Next stop… Ipoh Sar Hor Fun !