Boracay .. famous for its flat white powdery sand, and clear waters, off the northwest tip of the island of Panay in the Western Visayas region of the Philippines. We decided to visit in off-peak season, in typhoon season actually, but we were blessed with sunny skies, great weather, for most of the 1.5 weeks we were there.
There are loads of places to stay at in Boracay. Form Hotels to Air B & B, the choices are endless. We picked Henann Prime Beach on Station 1 for its location – not too busy but close enough to Station 2. Here's what we found appealing about the resort…
1. LOCATION
We chose to travel with AirAsia which flies to Kalibo, for obvious reasons. Super affordable fares and also for convenience. A mere 4 hours and we arrived in Kalibo. Travel to the resort is done via airplane to either Kalibo or Caticlan. From Kalibo, a 90-minute road trip needs to be taken which will take you to the shores of Caticlan. Once there, a 5 minute ride on the resort's speed boat took us to the rear of the island, where we were picked up by a 9 seater, and taken to Henann Prime Beach Resort. Resort land and sea transfers from Kalibo and Caticlan airports are subject to a fee or may already be included in certain packages.
When we arrived at Henann Prime beach, we realised why it was in fact named as such. This property on Station 1, had a terrific stretch of sugary white sand and we couldn't wait to jump into the sea.  It was also located on the less busy/noisy Station 2. If you're traveling with kids, then we highly recommend staying on Station 1.
You can also run on the beach in the mornings, if you need to workout, this sure beats the gym. At night you can talk a leisurely stroll via the beach to Station 2, for food (loads of choices of restaurants, cafes and bars) and do some shopping too.
evening footie
Shopping with boo
station 2 is filled with restaurants, and fun things to do in the evenings
Lechon! Roasted Suckling Pig
Bar hopping along Station 2- only water for boo! 
Chase the Sun- cocktails in a papercup (pretty watered down cocktails here) 
Quote : If you're the low man on the totem pole, just remember… If it wasn't for you the whole damn thing would fall over.
2.  SPA & AMENITIES
The resort has three swimming pools, one is located at the beach side building and another two located at the back.
If you want a break from the beach (though I don't see why anyone would), then the lap pools would be ideal for you. The resort is relatively large,with room in both the East & West Wings.
Some of the rooms have direct pool access where you can step out of the room and into the pool! The Grand rooms are the best of course, with a balcony that looks out to the sea.
comfy bed and spacious rooms – the Grand Room 
Room with a view
Let's catch some rays! 
And for those who love a good spa, you may visit Henann Regency Resort & Spa for a terrific 1.5 hours pampering. Kai Spa embodies its translation "soothing". With a soothing and oriental-themed environment, this is a great stop for pampering and relaxation.
choice of essential oils for body massage – I should have brought my own! 
Aside from massages, hand & foot choices, aesthetic wraps with scrubs, facial treatments, there's also a spa for your to relax at before your massage commences.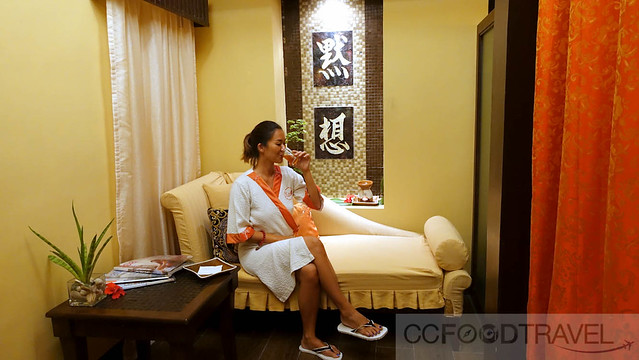 Post spa relaxation – good as new again!
3. FOOD
Every morning, we woke to sunny skies, blue sea, and breakfast at Sea Salt.
The modern and eclectic vibe of the place makes everything that much more fun and relaxing at the same time. Asian fusion with a modern beach vibe. And what a view!
I'm just having the juice. The rest is Luca's breakfast.
The staff at Henann Prime Beach are super friendly and helpful. This is probably the best reason to stay here.
At dinner, a glass for wine or two is a must..
Henann Regency Resort & Spa
We had a chance to catch a shuttle to Henann Regency for the Spa treatment. And also the chance to have lunch. And at Henann Regency Resort & Spa, the new Sea Breeze Cafe with its modern contemporary design and interactive buffet stations is the place to check out all day buffet dining with themes that change daily.
Smiling chefs and piping hot pasta
Eating all day long.. make sure you go running on the beach to burn off the cals
Angol Point..best place to catch the famous Boracay sunset! 
Before your stay ends, never forget to have some fun and relaxation in one of the best spots of the beach in Station 1, and don't miss the very popular Boracay sunset.
Add:
Henann Prime Beach Resort
Station 1, Boracay Island, Malay Aklan, 5608 Philippines
Tel: (63) (36) 288 9200 to 03