So one of those fine, fine establishments that we always walked past when holidaying in Singapore, would be the St. Regis Singapore.
This time round, we were back in town for the Epicurean Market and we managed to squeeze in a quick stay at this swanky hotel. Well, needless to say, we loved the experience, and there are a ton of reasons why you should stay there too, but here's 5 !
1. Location
And I am not sure what's cooler about this place. Its location right smack at the corner of shopping mecca, Orchard road, or it being a stone's throw from the Singapore Botanic Gardens. This would mean that a run early in the morning, following by an intense shopping spree all afternoon, would be a piece of cake. And in all probability, that's just what we did.
That's right folks, the St. Regis Singapore sits at the quiet end of Orchard Road, just a 10 minute walk from the scenic Botanical Gardens. It is a 10 minute drive from the Singapore National Museum and Singapore Arts Museum. Sentosa Island and nightlife at Clarke Quay are a 15 minute drive away.  The nearest Orchard MRT station is also a 10-minute walk away, and the most efficient way to get to the CBD is by taxi. A totally strategic location for any traveller to Singapore to stay at.
2. Rooms
Oh, and the rooms. The bed!
Loved the bright and happy color scheme, painted chinoiserie silk wallpaper and the super comfy king-size bed robed with St. Regis signature linens. Even blogging felt swifter on these silken sheets. And if one reclines on them Jim Thompson silk throw pillows one does really feel like a princess in her abode. Super fine.
How can one resist doing this, when one sees this?
Marbled floors, a gorgeous bath-tub and plenty of space for the double vanity – can't ask for more
The Art Deco-style rooms and bathroom were spacious – for views of the greeneries-framed Tanglin and Nassim enclave, ask for the Grand Deluxe rooms. A menu of complimentary coffee and tea is available around the clock, served to you personally by the butlers. Depending on your package, room rates may or may not include Wi-Fi and breakfast.
3. Service
And I cannot rave on enough, about the Concierge or Butler service at the St. Regis. It kind of reminds me of that song.. "Ain't no mountain to high, ain't no valley to low.. "  It was like no request was too unattainable or small to fulfill.. that's the St. Regis Butler for you.
The concierge were incredibly helpful and pointed us in the direction of the Botanic Gardens the first morning we arrived. They also gave us cool recommendations on the best local dining spots, going to the theatre, flight arrangements and transport. Loved the efficiency of the concierge at St. Regis.
The botanic gardens – a quick stretch followed by a 10KM run through the landscaped park. What a marvelous bit of green in the city! (read the post here)
Upon returning from our run, we are usually greeted by one of my favourite art pieces at the hotel.  Fernando Botero's Reclining Woman and the late Singaporean abstract artist Anthony Poon's architectural wave sculptures line the street.
Greeting the fat lady good morning, with a kiss!
When it rains, use the St. Regis brolly.. or 
 Take the super luxe Bentley! 
Travel in luxury and prestige while in Singapore, in a St. Regis customised Continental Flying Spur Bentley. I heard that this beauty costs a hefty Million Singapore Dollars!  Expertly helmed by gracious chauffeurs, it really does not get more luxurious than this. There's even complimentary wi-fi in the Bentley which means you can take selfies and show all your friends what riding in style looks like!
4. The Food, Drinks & Spa
On our first day at the St. Regis, we decide to indulge in their famous high-tea. Sundays at Brasserie Les Saveurs are all about the high tea. Such a beautiful spread and so wonderfully romantic – picture an epicurean spread of scones and hand-made waffles and crèpes prepared a la minute. Enjoy classic sandwiches served in a three-tiered silver stand, followed by an array of tantalising desserts and pastries. All this to the lovely tunes of the resident pianist. And the best part is when sommeliers fill your flutes with the St. Regis champagne-of-choice!
I was totally ga-ga over their meat pies (with the flakiest, most buttery pastry) and their multi flavoured scones.
Loved the fact that they were generous with their clotted cream and jam.
Lovely music & ambience to accompany high-tea
And one of the well kept secrets at the St Regis, might be the fact that the Wet Spa, is absolutely free for all in-house guests. You will however be separated from your partner, as it is gender specific, as you enter from the ladies and gent's side of the spa.
And the Remède Spa is apparently one of the best in Singapore. It is decorated in soft tones with crystal chandeliers and marble. The spa offers Bastien Gonzales manicures and pedicures, Vichy Showers, warm jade stone massage, wraps, various massages, body polish, facials etc.. a totally 100% pampering experience.
And you will notice that the elevators all have seats – apparently back in the day, it was the custom for ladies to rest their feet while traveling up to their respective floors. Well, if the seat fits, I'm not one to say no;)
Pre-dinner cocktails are a must, and we find ourselves heading down to Astor Bar for some Aperitif at around 6pm.
Lavishly adorned with wood, leather and contemporary art pieces, Astor Bar is the place to sample champagnes, wines, and premium international spirits.  Here, one may sip cocktails and take in Pablo Picasso's Toros Series of 10 lithographs on the art of the bullfighting line the walls.
The highlights for us were the Chilli Padi Mary, a local interpretation of the Bloody Mary and their  signature cocktail richly accentuated with Asian flavours. The Lychee Martini was good but a wee bit too sweet for my liking.
And then there was breakfast – my favourite meal of the day.
Breakfast of champions at Brasserie Les Saveurs.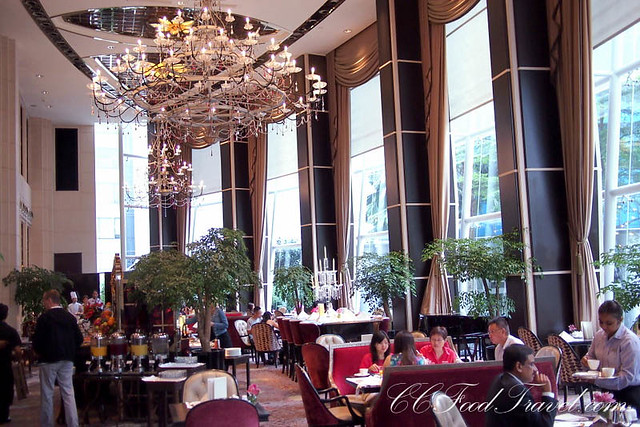 Now this is what I'm talking about – an unhurried enjoyment of  breakfast enhanced by tons of natural sunlight, amidst an opulent setting of timeless elegance. This is the life!
Starting breakfast the right way – plenty of fresh fruit that's bursting with sweetness
I had the eggs and steak ..
And hubby had the Japanese breakfast of salmon and rice.
The portions were just perfect for breakfast and easy enough to digest. It was not long after that we decided to go for a swim.
Tucked away within manicured tropical greenery, pool area is an oasis of calm and repose away from the hustle and bustle of Orchard Road. A serene sculpture by Taiwanese artist Li Chen makes you want to take a nap, just as he was!
Dotted amidst the greenery are also sculptures by Singapore-born Han Sai Por. Her works of art from the Seed series are inspired by nature especially the tropical rainforest. The sculptures on display are made from Terengganu granite, making them appear very organic and tangible.
Then just like that, the nap and swim was over too quickly, and it was time to hit the gym.
After gym, lunch at Yan Ting awaited us.
Yan Ting's deco reminded us of something out of the Ming Dynasty. The name Yan Thing translates as an Imperial courtyard for a lavish banquet, where royalty and influential diners would meet for a feast.
Amazingly decadent Crispy Roasted Pork, Vegetable Salad with XO sauce & Salted egg yolk coated Crispy Shrimp, or an option of Braised Chicken.
Extraordinary works of art adorned the walls. There was a series of stunning canvases depicting the four seasons a collaboration between Singaporean artists Joseph Lim, Phoebe Yang and Zhang Chunlei. Nearby was a treasured fan painting by Chinese artist Qi Baishi, known for being a self taught painter who resisted the influence of western techniques and remained true to traditional techniques of the Ming and Qing Dynasty arts.
Amazingly smooth and thick Braised fish maw broth with conpoy – could not get enough of this.  
Flaky, sweet Steamed Sea Perch Fillet with Coral Sauce
Succulent and tender Pan Roasted Rack of Lamb with dried chili and Uyghur Spices
And finally, with our sides bursting from the great food, there was a last dish of Braised Ee-Fu Noodles in XO Sauce with Lobster or, the Pork Loin with Ee-Fu Noodles in XO Sauce.
The noodles were nice – springy and braised till the full flavour of the XO sauce had infused into them.
Chef Lim, Yan Ting's Chef de Cuisine stopped by to say hello at the end of lunch..
And if lunch was not amazing enough, one of the must not miss dinners at St Regis is the Seafood buffet dinner.
Lobster, scallops, mussels, prawns and oysters for as far as the eye could see..
prawn cocktail starters
Ah.. my favourite station – the Chili Crab Live station! There was a choice of Sri Lankan or Flower Crab.. I went with the Sri Lankan mostly for it's intensely packed and thick claw meat. Yum-yum.. So you see, I didn't have to perspire and eat this in a hot and smoky joint. I enjoyed it in the comfort of  The St Regis Singapore's Brasserie Les Saveurs. Wow, lucky me.
Steamed Clams
Perch with lemon and herbs
Sushi & Sashimi counter
Tuna watermelon starters
My modest "catch" of the day, i.e. Dinner! 
Chef Fabrice Passicos Chef de Cuisine at The St Regis Singapore's Brasserie Les Saveurs stops by to say hello. 
Oh my.. I ate Chili Crabs till my sides burst. This was probably my 5th helping! 
A pianist and a melodious singer,  to create the perfect ambiance for a lush seafood dinner! 
5. Art 
And for art lovers, you really need to experience the The Art of Living tour – an exclusive 30-minute tour of one of the finest art collections in Asia, all located at the St. Regis. The hotel  is home to more than 70 hand-selected original works of art, including sculptures, paintings and prints by distinguished international artists such as Pablo Picasso, Fernando Botero and Georgette Chen.
The thoughtfully curated tour, for hotel guests only, is conducted each evening by the hotel's resident art connoisseur who shares interesting insights into the lives of some of the world's most renowned artists and the inspirations behind their masterpieces.
The special tour also showcases a range of impressive art pieces from the distinctive Singaporean Arts by pioneering Nanyang Artists like Cheong Soo Pieng, Georgette Chen, and Chen Wen Hsi to contemporary Singaporean artists including Eng Tow, Lim Joo Hong, and Chen Ke Zhan. The Art of Living Tours start at 6pm daily for a maximum of eight guests from Opera Gallery, which is located in the hotel. The tour is complimentary for hotel guests only and is on a first come first served basis.
Yes indeed, there are certain things that money can buy, such as a stay at the most high ended room at the St. Regis, or a gallivant around town in the chauffeur-driven Bentley. But there are certainly some things that money can't buy, such as  the S$10 million or so worth of art in the hotel. Paintings such as those by Picasso, Chen Ke Zhan, a sculpture by Fernando Botero can be discovered throughout the hotel and these are awe-inspiring. Just imagine the value of such an experience, something the hotel owner's wife spent six years amassing so that the guests of the St. Regis may enjoy and appreciate. Now that's priceless!
What a great stay. Now that the holiday is over, we can't wait to return, to re-live the experience again. We will be back!
Follow me on 
Instagram : @agentcikay
Please show us some FB LOVE, thank you!      Add:
The St. Regis Singapore
29 Tanglin Rd,
Singapore 247911
Phone:+65 6506 6888