One of the highlights of attending the festival of lights called Vivid Sydney, was our complete and utter immersion into the realm of light, and what light projections could do, when placed in the hands of incredibly talented people.
Watching the Sydney Opera House sails come alive, night after night, with light projections was an amazing thing. Running between the 24 May – 10 June 2013, we were fortunate enough to be invited by AirAsiaX and Destination New South Wales to attend this event, that has been going on for the past 5 years now.
Vivid Sydney was all about utilising the art of light projection, video mapping and motion graphics to create art and paint the town red (or should we say, technicolored) – the buildings being the artist's canvas, and the medium being light.
Museum of Contemporary Art
We witnessed the sails of the Sydney Opera house come alive with the most funky colors and graphics – my favourite being the one that reminded me of the opening sequence from a James Bond 007 flick. It got better as the night progressed and we were happy to surrender ourselves to this visual adventure with Sydney's most iconic landmark being the nucleus of all the activities.

Apart from being a well organized and highly entertaining event, Vivid Sydney is also free. Who might have guessed that Sydney would be such a great place to visit with family and friends during the winter season? I used to only think of Sydney as a place to visit in the warmth of summer, but not any more. Staged every night from 6pm to midnight on the shores of Sydney Harbour, it was a photographers paradise to say the least.
Fun activity for the kids – drums that once played, send streams of colors down a structure
By the creative utilisation of light projections, video mapping and motion graphics, the harbour took on a whole new dimension. Old and new buildings around the harbour became visual artist's canvases for light displays and interactive installments. It certainly made the location a big attraction to many. When darkness fell, Sydneysiders (that's what the Sydney people residents call themselves) and visitors alike wandered about discovering unusual exhibits spread out in every direction. Some stood still in awe of the majestic projections on iconic buildings while others were encourage to interact with exhibits. Children absolutely loved the interactive displays as they could feel, touch, beat drums, wave and clap hands or dance to manipulate the colors on the unique displays.
So, with so much to do, and with so many human beings milling about, how does one not get overwhelmed and how should one map their route, to derive the maximum benefit out of this event? It is simple, if you head to the website Vivid Sydney, it actually helps you map your route so that nothing is missed. The light exhibitions were scattered all over the harbour and it spanned from Fort Denison, the Sydney Opera House, Circular Quay, The Rocks, Walsh Bay to Darling Harbour. There were three parts to the event to check out. The Vivid Light, Vivid Live and Vivid Ideas.
Customs House
What's this.. the building changes shape! Nah.. it's just an optical illusion, playing around with light;)
As we walked from point to point, we saw 3D lights projected against Sydney's other iconic buildings such as the Museum of Contemporary Art Australia and Customs House transformed into works of art. Then walking along the route, we saw many light art sculptures and installations that encouraged Sydneysiders as well as tourists, to be as creative as possible using light to paint on these famous buildings that they see everyday. One memorable one was when we tried our hand at painting the Sydney Harbour bridge in light, using a simple interactive touch screen. We could actually control the 100 000 LED lights on the Harbour Bridge via Intel Australia's touch screen at Milson's Point. We did this after dinner at Aqua, at the Luna Park. By just using the touch screen, we selected the colors for the entire bridge, hit a button, and voila the results showed on the bridge! Pretty awesome.
Hmmm.. We've always wanted to paint the town red.. (Sydney harbour bridge included)
Better yet, let's make it technicoloured!
There were many representatives by artistes from all over the world. Apparently they had to submit their plan for Vivid Sydney and the board decided if the work would be accepted or rejected for the event. Happy to say, Malaysia's one was accepted. Ms Grace Tham, an interior designer at the international design agency Hassell was a real standout, with her masterpiece entitled, the Titled Walsh Bay Whispers. Her structure was about the origins of the Walsh Bay, and it came decked out with life-size, rather realistic looking models of rats.. must have been something about the rat infestation problem that plagued the Walsh Bay back in the days of yore! Yes, the rat plague, that's what it was!
the lovely, super talented Grace
On the Circular Quay promenade, a Morphic Mirror made us feel like we were in an amusement park. We got to see our own reflection as shimmered and shifted with rapid movement, that in turn induced waves that rippled across the mirror's surface. From this vantage point, you could see the Colours of Vivid splashed across the CBD and skyscraper buildings of the Sydney Harbour foreshore. We also had fun in the light tunnel, but it was packed with people so it was difficult to get a clean, clear shot. Created in collaboration with The Benevolent Society, the Hundreds and Thousands light installation is designed as a tunnel for people to walk through and is essentially a net of thousands of little LED lights, representing the thousands of hopes of Australians!
the light tunnel
Then there was a cute street lamp, made from lit up bees ( if one bee failed, the entire circuit would die), created by Jon Voss, a Sydney-based artist and architect who was exploring form, movement and light in his work. Bees was constructed to look at the complicated wonder and juxtaposition between order and chaos in the honey bee colony. Chaos gives way to organisation as viewers get a closer look at the strict hierarchical order of bees.
Bees
One of my all time favourites at Vivid Sydney, was this huge glowing orange installation, dubbed "Planet: Under Construction (PUC)" that blew smoke every now and again at passerby's. PUC looked sort of like a large glowing sea urchin. This interactive installation had loads of folks just standing around and gaping at it in awe, due to its size and striking color. PUC was made of 200 traffic cones strapped to a metal structure with bungee cord and is one of the first lighting sculptures that can be seen walking from the city to Circular Quay.
PUC
There was a rather cool workshop one night (borrowed photo from the web – our guide promised to email us the photos, but no sign so far) on painting with lights. We worked with the good folks of Beyond light Photography to learn to paint our names in the dark. Basically you need to paint words, logos or graphics in mirror image, and you need to stop with every stroke, switching the light on and off. It's a little technical to explain it here but there's more info on their website. We did get the hang of it, by the end of the night. The end result is what you see in the photo below. A rather creative postcard to send your friends, I imagine.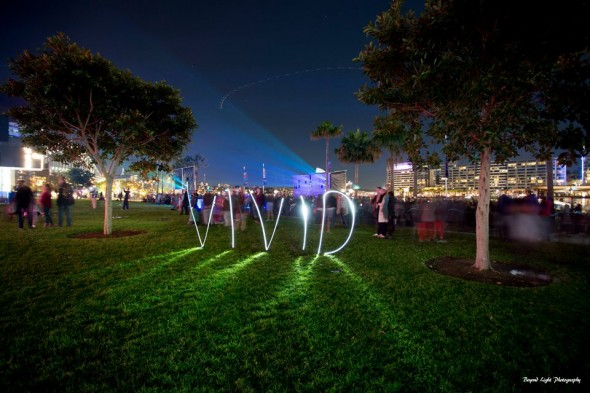 Then there was the installation on George Street in The Rocks such as Human Effect; as you approach, a beautiful "garden" appears to be growing in a laneway, only to wilt and slowly die before your eyes. At Cadman's Cottage there was a large touch screen, where folks could create their own architectural projection. At Campbell's Cove in The Rocks there was the Enlightened Piano, a grand piano set on a small stage. Whether you're a professional musician or an amateur, you could create a piece of music that produces a unique light pattern. Further on, there was a We See Saw where a LED screen would light up your own individual colour scheme with each bounce of the see-saw. There were some creative stations housed in buildings, along the same street as the Museum of Contemporary Art, our favourite being this one that converted your heart rate to light. The harder you were breathing, the faster your heart rate, and so the colors would be a bright orange or red. Once you calmed down, your heart rate would drop, causing the colors to change to blue. Your heart rate is measured on the index finger or earlobe via a pulse sensor then translated to pulsating circular ray of colors.
Light Meadows – Run your fingers through the fibre-optic 'grass', designed by Mark and Sarah Gilder
I must have been excited, running around the harbour, trying to take capture the lights on my camera.. Notice the red color !
We were also all excited about catching Vivid Live, with Kraftwerk being top on our list of must sees but too bad, they were all sold out. We left before we could experience Vivid Music and Vivid Ideas. Vivid Music was a big festival of electronic and experimental music which we would really have liked to catch. No matter, maybe next year!
There was a chance to catch the fireworks, as they are exploded onto the scene with the Vivid Aquatique show at Darling Harbour one night, and we vowed to return to Sydney one day for another round of Vivid Sydney. Who says you need to wait till the year end for fireworks in Sydney, eh?
AirAsiaX flies to Sydney seven times a week from Kuala Lumpur as well as to Gold Coast (five times a week), Melbourne (up to nine times weekly) and Perth (nine times weekly). AAX also flies to Nepal, Japan, Korea, Taiwan, China and Jeddah. We like the ultra comfortable Premium Flatbeds for longer flights, and also the Quiet Zone, which is located just behind the Flatbed section. It is less noisy and comfortable to fly if you don't want to be disturbed by screaming kids. All in all, the A330-300 aircraft offers additional facilities and services such as Premium Flatbeds, Quiet Zone and Red Carpet Service which is all rather luxurious, considering it is a budget airline. In our opinion it is the best value for money. Check out AirAsiaX and Vivid Sydney here.
Thanks for the FB love!