While we are on the Gosling theme.. here's another show I enjoyed!
Plot: A fortysomething, straight-laced Cal Weaver (Steve Carell) is living the dream job, nice house, great kids and marriage to his high school sweetheart. But when Cal learns that his wife, Emily (Julianne Moore), has cheated on him and wants a divorce, his perfect life quickly unravels. The hapless Cal is taken on as wingman and protégé to handsome, thirtysomething player Jacob Palmer (Ryan Gosling). In an effort to help Cal get over his wife and start living his life, Jacob opens Cal's eyes to the many options before him: flirty women, manly drinks and a sense of style that can't be found at Supercuts or The Gap. But despite Cal's makeover and his many new conquests, the one thing that can't be made over is his heart, which seems to keep leading him back to where he began.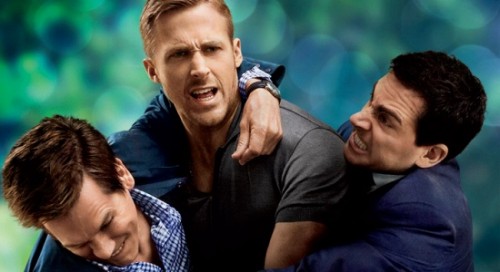 What we thought: Actually, much of the movie's appeal is generated by the actors. Steve Carell whom I have always liked (from Dunder-Mifflin paper company, Scranton – The Office) is the down and out guy who has lost his libido and yes his sex appeal – to both his wife and to himself. Emma Stone is a clever and pretty corporate chick (about to take the bar exam) who could do so much better than the self absorbed lawyer she is dating. Julianne Moore as Cal's wife is cold and distant, and has totally lost faith in her husband and hates herself for feeling so. Marisa Tomei is just the coolest – she is the sex-object of Cal's affections when he decides to celebrate his independence – she is so funny and when she enters the set, it's like the film lights up with her energy. What a smile!

But the surprise is Ryan Gosling. He is what I would call, a superbly versatile actor. From the anti-Semite ("The Believer") to a child killer ("Murder by Numbers") to a man in love with a love doll ("Lars and the Real Girl"), he is just the coolest. Even if he puts on 20kgs for a roll, he still has that screen magnetism that is rare to come by. However, surprising as it is, I really bought the lounge lizard cum pickup artist, character he played in Crazy, Stupid, Love. Ladies, first you will just want to sleep with him.. later when you see his softer side – you want to marry him! Haha:P
More about the movie: The film revolves around Cal Weaver (Steve Carell), whose wife (Julianne Moore) has recently announced her infidelity (the "other man" is played by Kevin Bacon) and requested a divorce. Cal takes his sorrows to a singles' bar, where he's adopted by local ladies' man Jacob Palmer (Ryan Gosling). Jacob educates Cal in the new ways of wooing the ladies, and Cal, meanwhile, takes advantage of Jacob's coaching to score sensationally with Kate (Marisa Tomei), an energetic, recovering alcoholic who is a sexual virtuoso. Cal is also dealing with the fact that his adolescent son Robbie (Jonah Bobo) is in love with his teenage babysitter (Analeigh Tipton), who in turn is in love with Cal. Meanwhile, Jacob eventually realizes that he's still pining for the woman (Emma Stone) who got away. At the end of the day, Jacob, the player, is actually looking to be more like Cal – he is looking for "the one" true love, to settle down with.
What worked and what didn't: Mr. Gosling and Mr. Carell (whose production company is responsible for "Crazy, Stupid, Love") make a pretty good couple. Both are nimble and funny, and the chemistry between mentor and student that takes a turn in the end, is pulled off to perfection by these two. I would say that the strength of the movie, is that it develops and plays out the characters well. While the show is not deep, it does address the issues at hand. You can identify with the people and their sufferings. It's funny yet pathetic at the same time. At the end, the story leaves room for the characters to improve and grow. There was only one part I did not like which was stupid and cliched. When Cal goes to the graduation day of his son, he does this long speech on why his son should believe in a soul mate. Totally unnecessary and irritating. Should have cut that out and made the movie shorter by 15 minutes!
Apart from that, an entertaining show. A must watch.