We used to love Just Thai! It used to be JUST wonderful value for money!
2 people could eat a massive set for just RM49.90. Really.
Too bad that we found the food to be JUST SO-SO this January 2008 🙁
Though the PAD-THAI looked perfectly, gorgeously laid out and all…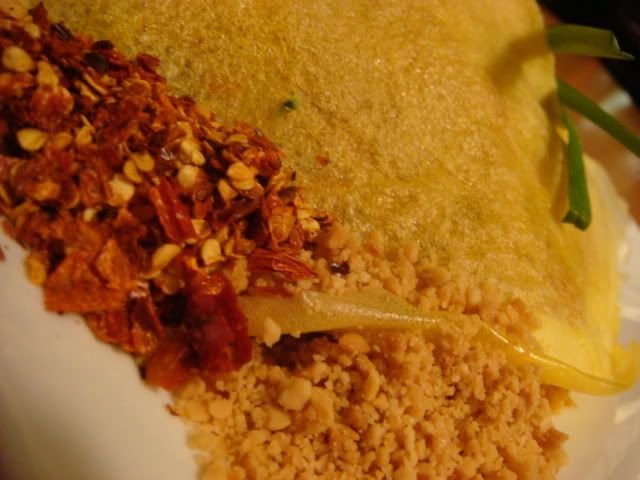 AND… the Taugeh looked crunchy and plump…

my colleague said that the pad-thai tasted like maggie mee goreng mamak, tambah sos tomato ! eek! very bad!
After that , it was just downhill with every dish. The sotong was rubbery and weird smelling..
And the fish was like pulverised chalk in batter..


… the Money-Bags were literally empty.. i.e. HOLLOW !
The green vege was not bad.. but the served up portion was like for ONE person… very small !

WHAT'S GOING ON MAN??!!!
Hmmm… then….
Finally… the only dish worth blogging about arrived!
The TOM-YAM!


Ah… the TOM-YAM at Just Thai totally KNOCKS YOUR SOCKS OFF!
IT's damn bloody HOT! And prawny.. and fishy.. and Zingy !
If nothing else.. i came for this dish!
It is tres tres yum…
supa–dupa spicy… l LOVE it 🙂
Dessert was fine… but I doubt i will EVER eat here again… unless I am desperate for TOM YAM that is… and even then.. I'd have to think twice.
( i.e. if I am BROKE and my friend insist on BELANJA-ing me at Just Thai.. and even then I will kick them for being so tasteless and mean to me.. ! hahaha!)
Oh… and the icing on the cake, by the way….
what we realised 3 hours later, after that meal, was that we were SUPER DUPER thirsty!
Too much MSG.. i tell ya… 🙁
Food : 2/10
Portions : 2/10
MSG levels : SKY high!
Price : average