Look at this structure!
It's such an eye-sore.
My fav place for Ngau-Lam Mee (Beef Brisket and 'bits-and-bobs' noodle.. !) in Ipoh is near a dilapidated, abandoned, ex- feng tau (ecstasy) joint…
It's really run down and horrific to look at.
It kills the entire scenery. It really does.
Not only that….
… it's located just next door to one of the TOP Chinese government schools in Ipoh. SRJK Sam Tet Chinese school!
Thank God the ex-feng tau joint is no longer functional.
Back to Sam Tet School.. apparently during exam weeks, the library at Sam Tet stays open round the clock. 24/7 .
Really. Talk about dedicated to excellence!
And it pays off… every year, they churn out top results and top students in Ipoh. No joke.
We were early … Don't let the empty seats fool you.
This place, affectionately known as WAI SEK KAI, Ipoh, is TEEMING with activity and people from like 7pm onwards, till MIDNIGHT.
We were early so, no jam.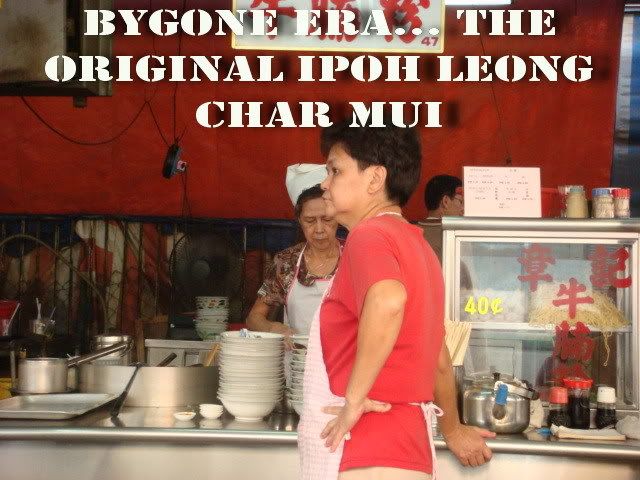 I have a story to tell you. Back in the day… and I mean THE 50's…
These two ladies… SISTERS.. were the BOMB!
They were the infamous sisters from The Ipoh Leong Char Mui Era.
I.e. THE Sex Kittens… the Nubile Nymphs… the epitome of all that was feline, languid and svelte…
The young men of Ipoh (my Dad included.. ahem)… use to cook up excuses to go eat at the 2 sister's, just so they could spend many a humid afternoon, ogling the gorgeous gals… Such was life in Ipoh in the 50's , i tell ya.
Anyway, that's all past now. End of story…
(But u get the picture, don't you.)
Well, these 2 sisters, though no longer spring chicken… are still bloody awesome at what they do.
And what they do best is NGAU-LAM Mee !
Cheong Kee Stall, Ngau-Lam Mee is the bomb!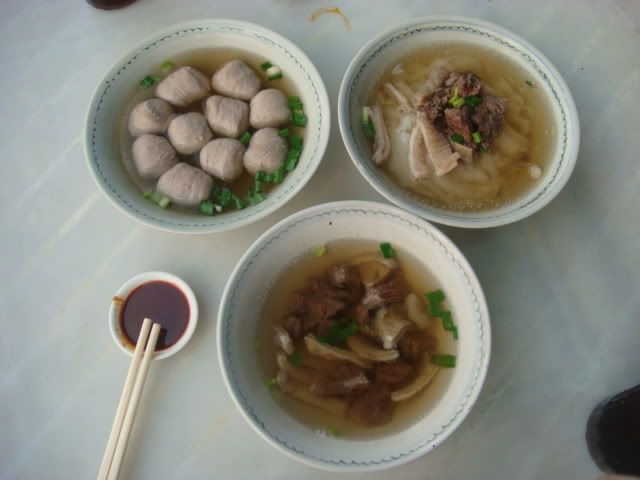 The beef balls are springy and delicious.
The other beef spare-parts are soft with cartilage and succulent with juice…
The soup is heavy and thick with beef stock which has been boiling for days and days…
The chili they serve with it is greasy and hot, and has a life of its own!
The best part is that a LARGE bowl of beef noodle is only like RM3.20!
Where to get in KL? Where? It normally costs you anywhere between RM4-5bucks in KL.
I love the 2 SISTERS.
Girls… don't ever change.
Food : 7/10
MSG levels : low
Price : dirt cheap!
Next stop… Ipoh Curry Mee… The Grand finale to my northern BINGE.