Taiwan, Taiwan.
The last time I set foot in Taipei was over a decade ago for my '9-to-5' job, back in the day when I still worked for the Pharmaceutical industry.
Round Taiwan in 12 Days? Not quite.
This time, returning as a family,  we traveled from the north, down the west side until the southernmost tip of Taiwan. We flew in via Taoyuan International Airport in Taipei, then departed via Kaohsiung airport. The single direction saved us a lot of time which would have otherwise been wasted trying to cover a long distance (and costly) return back to Taipei.
For this trip, part of our destinations and overland transfers were provided by Tripool service. What is Tripool? Well, our experiences with Tripool is summarized at the end of the post.
In this post we are giving an overview of our travel itinerary. There will be subsequent posts providing more details on our adventure that may help plan your trip so keep in touch with us.
We experienced the small town life, scenic rural village farms, rustic walking paths and folk culture of Jiaoxi township in Yilan County, one of the most breathtaking regions outside Taipei. Jiaoxi is approximately 2 hours by car, from Taipei.
Enchanting, countryside of Jiaoxi offers a wealth of natural wonders, including lakes, rivers, waterfalls, and natural hot springs. The best way to explore this town is with a bicycle. From Jiaoxi, we headed to Su'ao township on the coast, famed for its fresh seafood and cold (temperature) springs. More details to come in our next post.
This post has a little more info on Onsense Villa boutique hotel in Yilan.
TAIPEI (Day 3 – 5)

Taipei is the political, economic, and cultural center of the Republic of China or as many of us know it as Taiwan. This sprawling capital city, home to many world famous IT brands, night markets, and street food, is probably the main draw for many travelers.

Towering above the city like a gigantic bamboo stalk it was designed to resemble, Taipei 101 is impossible to miss.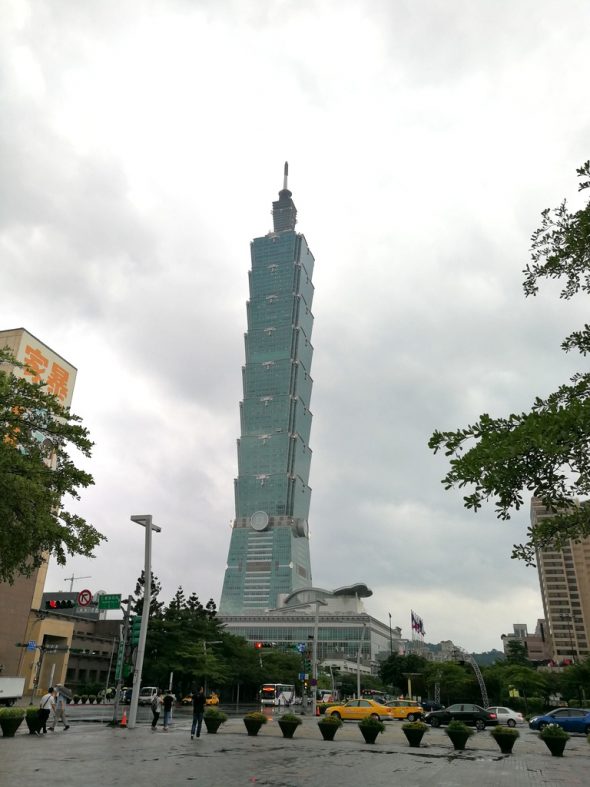 At 508m, Taipei 101 held the title of 'world's tallest building' until 2011.  It's tough to visit Taipei and not want to pay homage to this beautiful, iconic architectural structure. But whether you're eating some of the weird and almost unidentified snacks at one of many night markets or digging into local dishes at a Taiwanese restaurant, one thing sticks out – Taipei is huge. There ain't enough time to cover all the night markets in just a couple of days… so much Stinky Tofu and Taiwan Beer .. so little time! With its lanes of blackened walk-ups and countless shopfronts, the city may look like it was thrown together in a hurry, but look again. Great care has been taken to make it a safe and efficiently livable place for people. Public transport grids the city well and every few blocks there's a park with a generous supply of benches, shelters and proper well made pedestrian walkways line the entire city in close to perfect conditions. The MRT is easy to use, and clean (smell free) free public toilets are never too far away.
QINGJING (Day 5 – 7)

From the warm coast, we headed up the windy roads to the highlands.
Located between Wushe and Hehuanshan, Qingjing (or Cīngjìng) was once a cattle ranch of the Seediq. It wasn't until the 1960's that this place was turned into farmland, providing livelihood to KuoMinTang veterans from the Chinese Civil War. Today, Cingjing covers more than 700 hectares of rolling meadow, and is a hill station especially popular among Taiwanese, Singaporean and Chinese visitors. It's a great place for a local short vacation, and to escape to the cooler climate during the heat of summer.
ANPING DISTRICT, TAINAN (Day 7 – 9)

From the cool hill station, we made our way back down to a warm coastal district of Tainan City, Anping, where it might have been Luca's favourite stay due to a indoor playground center built inside the very new, Hotel Chateau Anping. More details eventually in another post.
Located towards south of Taiwan, traditional culture and folk customs continue to thrive in Tainan, the oldest city in Taiwan. Taiwanese refer to Tainan as one of its key cultural center. The many Buddhist, Taoist and Confucian temples, and other places of worship bear testament to this title.
The name 'Taiwan' was once used to refer to Dayuan, Anping's former name. Tainanese are fastidious about their food, and a number of dishes are exclusive to the region, but renowned all over the island. We wished we had time to try more of the delicacies but time was not on our side especially when traveling with a little one. We only had time to visit Dadong Night Market before it was time to move on to our final destination.
HENGCHUN and KENTING (Day 9 -12)

After experiencing the rural parts, cities and highlands, we needed some vitamin sea. If locals wanted a beach retreat on the island then Kenting in the southern end is the place they would head to. Our final destination had us walking through Hengchun old town and fort, then exploring parts of Kenting on an electric scooter.. the three of us.
Low mountains and hilly terraces prevail over much of Kenting National Park (located in Kenting town), along with rugged high cliffs and sandy deserts. The swimming beaches with yellow sands and turquoise waters are renown amongst travelers, and sightseeing on a scooter or bicycle is highly enjoyable. Kenting National Park attracted massive attention first as one of the settings for Taiwanese director Wei Te-sheng's hit movie Cape No. 7 in 2008, and later for Ang Lee's Life of Pi in 2012. But long before the movies caused tourism to spike, Kenting National Park, which occupies the entire southern tip of Taiwan, was already drawing in flocks of visitors locally who came to swim, surf, snorkel and dive, hike and enjoy the cafes and beach life all year round. The average January temperature is 21°C and when we went in June, it was a scorching 38°C.
Our experience with TRIPOOL TAXI APP
One of the things we soon discovered about traveling in Taiwan is that if you want to get to remote places or places out of Taipei,
It can be time consuming as you try to make sense of the complicated bus, and train schedules, interchanges, chinese location names. And then there is the wait
It costs a fair bit of money. Obviously by taking a mix of pubic transport, the costs add up. You can save by using Integrated Circuit Cards which are top up cards. This cashless service offers discounts and accepted by many Taiwanese businesses and public transport island-wide. IC Cards like EasyCard can be purchsed at convenience stores and can be charged up there as well.
Although Taiwan isn't very large in size, there is still some distance to cover between destinations. Speed limits are strictly enforced. You won't see many police patrols on the highways but there are many speed cameras.
Up till recently, there were 2 main ways to travel around Taiwan as a visitor.
Travel like a local – taking public transport which can be a mix of train, bus or taxi, or all three modes of transport. The more remote, the more likely you'd need a good mix.
Travel via organized tour – ie. chartered door to door with complete guided itinerary + transport
The first option while cheaper, can be time consuming. The second is faster, more convenient, but obviously comes at a premium.
Now comes a 3rd option, and the mode we chose to traveled around Taiwan this time. We were invited by RoundTaiwanRound, to try out their new smart phone app, called Tripool.  It's a private taxi booking service, with the comforts of door to door service, at very competitive prices.
It's nowhere as expensive as taking an organized tour and it gets you to the location faster than say a transport mix of train, bus and taxi. When traveling with a 2 year old, you can see why we found Tripool to be an excellent alternative to the options that preceded it. It's a handy service for families, flashpackers to convenience-seeking travelers but not for single backpackers for obvious reasons. However, if you are a group of 3-4 budget travelers, the service can be useful and definitely beats waiting for buses and trains on timetables.
With Tripool, you only need to key in details of travel such as, current location, destination required, number of travelers and time of pick up. We ran into some difficulties initially but we found the LIVE chat useful and the medium of communication is in English which makes it super efficient and easy to use for us English speaking folk.  They solved our booking queries in no time. The drivers, however, like many of the older generation and most of the population do not speak fluent English but they are a friendly lot and there is always a handy translation phone app available somewhere.
Here's an Example of Travel convenience and cost
The Cheapest way for Tainan to Kenting requires a person to take a combination of high speed train, bus and taxi. This route takes around 4 hours of travel due to transit time. Since there's 3 of us, it would have cost close to RM240(USD59) for this route as we would need to get 3 tickets each. The cost obviously doesn't quantify the inconvenience of lugging around our bags, and having to deal with limited luggage storage space (or none) with public transport.
The usual Fast and Convenient way from Tainan to Kenting door to door is by private charter or car, which takes 2 hours but costs anywhere between RM450 – RM500 (USD110-125). It is costlier as drivers need to charge for the empty return run.
Using Tripool, it only cost us approximately RM250(USD61) and took us 2 hours. Same comfort/convenience in an air-conditioned transport service, and equivalent in cost to taking public transport.
Same goes for every single leg of the journey. From Yilan – Taipei. Taipei – CingJing, then CingJing to Tainan, all worked out to be most cost effective and faster via Tripool.
Tripool offers door to door taxi service only. So you need to have your own itinerary prepared although the drivers (who are locals in the area of service) may offer suggestions to local attractions enroute. Tripool will only shuttle you to the place of interest, but they do not provide guided services.
A couple of Tips Navigating Taiwan : 
If you don't speak Mandarin, download the Google Translate app (as we did). The Tripool drivers and most folk in Taiwan only communicate in Mandarin or Minnan (a variant of Hokkien dialect). Taiwanese are in general very highly educated but lack of verbal practise of the English language prevents them from using the language. That being said, we had no trouble talking or communicating our wishes at all this trip. The Tripool drivers were courteous and helpful
You will need a mobile WIFI to get around as alternative to getting local mobile phone sim cards. Since the trip is not organized as a tour, the only way to get around efficiently is if you have wifi with you at all times.