4. Eumundi 
Eumundi markets, we were told, is a must visit. Open only on Wednesdays and Saturdays, from 8am till around 2.30pm, it is one of the region's largest outdoor markets. Well, we missed the Wednesday market, due to our kayak tour ending late, so we caught the Saturday one instead.
Amble along a shaded walking path, lined with close to 500 stalls that showcase artwork, furniture, handcrafted toys, cutting-edge jewelry, and clothing by local designers, among other one-of-a-kind items.
The Eumundi Markets has a diverse and amazing range of art, craft, products, entertainment and local produce spread to 3 sections around the small town of Eumundi. And if you are foodie, you will probably have eyes larger than your stomach, and end up over eating like we did. From fresh and naturally brewed ginger beer, health juices and shakes to succulent, piping hot Tibetan momos, you will love what the market has to offer. Even Malaysian style roti and murtabaks is available. Freshly baked breads, colorful produce, local cheeses and yogurt, fresh salads, homemade chocolates, quality coffees and unique snacks, you'd do well to arrive at Eumundi Markets with an empty stomach and a wallet filled with cash. And even if you don't want to indulge in any of these activities, there is always still the people watching, which is highly entertaining, and better yet, free.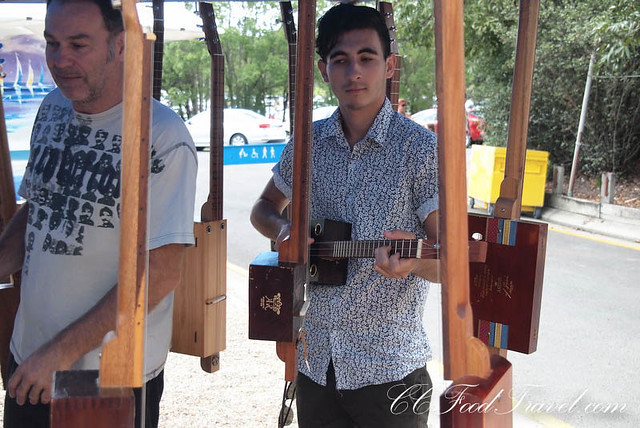 An experienced guitarist strums bluesy riffs on cigar box electric guitars
Face painting by Lady Pink
Momo's from a Tibetan
Fresh blended unsweetened wholesome juices
Fried Momo vs. Steamed Momo
Blondy with the green spirit
We fell in love with fresh brewed boozy and non-boozy spicy ginger beers. This was one of the non-boozy ones.
Detailed painting on stones
World music at Eumundi
Later that night we returned to Noosa, and caught up with old friends over Thai take-away food in their newly built mansion. What a great place to be.. we felt a little sad that we would be leaving Noosa the next day.
 5. Mooloolaba – Maroochydore
The next day, we depart from Noosa, for Mooloolaba, approximately 1 hour's drive from Noosa. Before that, a quick spot of lunch at Rickys, which everyone was saying we needed to check out, as the food and view had a reputation of being amazing.
The Chef's interpretation of  the Peruvian Ceviche. Some Asian inspiration with dried coconut shavings, and lemongrass
On the beautiful Noosa riverfront, Rickys encapsulates Noosa's laid-back feel perfectly. Harmonizing fresh produce, good food and wine with a lovely view of the riverfront it makes you want to just linger for hours over your food.
Breezy, clean-lines and a contemporary design, with a great al fresco area, overlooking the water. A jetty at the front of Rickys brings folks right up to the doorstep of the restaurant.
After lunch at Ricky's we head to Mooloolaba which is another coastal town, approximately an hour's drive from Noosa. Checking into the Mantra Mooloolaba, we soon had to make our way to Ocean Addicts for some Stand Up Paddle Boarding fun.
Mooloolaba is a cute name, and the pronunciation is even cuter – Mu-lu-lah-bar.  Derived from the Aboriginal word mulu, meaning snapper fish, or mulla meaning Red-bellied Black Snake we love the place because there seems a lost more going on here than in Noosa. Mooloolaba is located about 100 kilometres north of the state capital, Brisbane, and is part of the Maroochydore (Mah-ru-chee-door) urban centre.
Stand up Paddle boarding is like a cross between kayaking and surfing. It's great cardio because you need to put some muscle in it, especially if there is a strong wind, coming in the opposite direction, and if you want to move forward. It's a great introduction to surfing, as you can practice your balancing technique on a board, before hitting the waves. It is also a great way to see the surrounding islands and town (riverside), without having to walk – just paddle around the area instead!
We we told that some locals even paddle out to the little islands to have a picnic.
Within a few minutes I was paddling confidently, that is until the heavy rain winds and the water current swooped in
Scotty the paddle board dog.. what a darling!

Our guide, Luke, got me up and paddling the paddle board in no time and I'm happy to announce I didn't fall over unlike Cumi who was practising quick surf board turns.
 The soon-to-be legendary battle of the green and blue sails!
Cross fit torture at Parkyn Parade
Lawn bowl drama

A beach facing skate and BMX park at Alexandra Headlands
Ciki runs everyday.. to burn off the calories! 
Dinner that night was at Fish on Parkyn. It was located next to the Mooloolaba Fish Market, which was closing by the time we arrived past 8 o'clock. But we would be back, first thing the next day to check it out, for sure.
memorable pork belly prawn salad – loved the modern Asian twist on this tasty salad, but didn't appreciate the fact that they didn't take ends off the bean sprouts ! 
Sword fish, zucchini flowers stuffed with blue cheese, on a bed of bak choy, vegetables, and again, those untrimmed bean sprout roots! 
Early the next morning, we hung out by the beach and returned to the Mooloolaba Fish Market.
don't worry, I will save you sis!  
Fresh catch of the day – in the pink of health! 
Mahi mahi, crawfish, lobster and oysters were definitely on the menu!
The Mahi-mahi or Dolphinfish
Kristien Penny – Manager and friendly hosts serves us a massive platter of Mahi Mahi, Calamari and later, fresh prawns.
Kristien made sure we were well fed. Great hospitality – the Mooloolaba Fish Market is a must visit if not for the mega-fresh seafood, then for the great friendly service!
Flaky, juicy and still succulent with the sweetness of the ocean..  we ate so much.. it was time to exercise yet again.. and this time.. with a rented bike! 
Ah yes.. one prawn too many and it was time to see a bit more of Mooloolaba on wheels
Seeing places on a bicycle is great. You cover longer distances and can stop anywhere you like, without the need to pay for parking. At Mooloolaba, the Electric Bike Center is the place to go to, to get a cool, motorized bike for hire, or even to buy one. The best thing is that they have motorized tandem bikes and small foldable bikes too. Motorized bicycles are great for undulating terrain – as we found out after peddling across several districts, the beach and then having to race back to the shop when our rental time was up.
With a motorized bicycle, you don't need to work as hard as there is an electric motor which kicks-in automatically when you start paddling. This reduces the resistance and your fatigue too, especially for long distances. There is a speed controller for the motor and also manual gear shift.
Ciki stops to catch her breath by the harbor 
We bike up to Point Cartwright – located on the tip of Mooloolaba, this look-out point offers a majestic view of beaches towards Caloundra on one side and on the other side, the Mooloolaba beaches. On this clear sunny day, you will see jagged cliffs, sprawling plains and a hypnotic coastline.. best spot for photography. 
Apparently also the best spot for paragliding! 
 irresistible Polaroid moment! 
We passed an interesting spot for camper vans too.. next time we return, we might just opt for this sort of holiday! 
Well then, after all that hard work, it was almost evening, and time to 'tap' into that beer drinking culture that the Australians are famous for. We head to a new restaurant bar called Taps which is located on the corner of The Esplanade and Brisbane Road. It is one of a kind concept in Australia as the owners tell us. Besides ordering regular drinks, Taps offers patrons an opportunity to pull your own beer from 28 different beer taps around its venue. The beers available are from local small batch breweries and a few foreign labels. You would use a pre-paid magnetic button loaded with the value paid to operate the taps.
The undisputed favorite that night for us, was the Ginger Beer! – the boozy version
After the beer, we head out for dinner at Spice Bar Mooloolaba, just a short walk from our hotel. Having had a lot of seafood in the past couple of days, we opted for some good old-fashioned meat dishes instead.
Amazing roasted duck and pork dishes – we need to come back here again for more fantastic food. After 2 years in South Australia's southern wine region and 4 years in the back streets of Mooloolaba on the Sunshine Coast, Spice Bar's third restaurant is a definite winner. This was one of the best dining experiences we had on this trip. This and Season's on Noosa.
The next part of our Journey takes us to "The Green behind the Gold". In other words, into the Gold Coast Hinterlands.  Stay tuned for more adventures! 
We were visiting the Sunshine Coast as part of #room753 & #thisisqueensland campaign,  in conjunction with Tourism Queensland.