Our recent jaunt to the little red dot had us driving down to the east coast side of the Island to Katong.
Tanjung Katong, its lengthier former name, was the quintessential coastal  village that had once faced the sea.
Resorts, mansions, villas, villages and fishing boats all occupied the land here,alongside plantations, mangroves and swaying palm trees. It would be hard to imagine Katong today to be a sleepy laid back coastal area where the wealthy lived right next to the simpler folk. This was before the city-state received its independence in 1965 from Malaysia and with a smaller population as well.
With its desire to improve its economic status and prepare for population expansion, then newly minted Singapore government laid plans to increase land mass and to build infrastructure. Land reclamations in the east coast eventually gave rise to East Coast Park and the adjacent East Coast Highway. Gone are the villas, tilled lands, fishermen and villagers. Many of the villagers were transplanted from lowlands to 'high rise' flats.
Today Katong and Joo Chiat area comprises of old and new facades. Tall buildings and shopping malls interspersed with colorful old colonial shophouses and places of worship. British, Eurasians, Chinese, Malays, Indians, and Peranakan culture has greatly influenced early building designs. Leveled by development, most remnants of the past are no longer seen or even known to have existed unless one partakes in a heritage tour or starts a conversation with a senior citizen.
Straits-born chinese culture or Peranakan is well-known in Katong and nearby Joo Chiat. Tour brochures, magazines and food blogs lists many eateries where one can savour authentic peranakan cuisine as well as local delicacies. Katong Laksa is one of the much celebrated dish found here. Unfortunately, on this short trip, we didn't have a chance to slurp up its spicy sweet sour flavors to make a comparison with the ones we are familiar with.
East Coast Park is a 15km coastal stretch of green public space that is so well designed, built and managed that its a big draw for locals and visitors alike. It is busy daily in the mornings, evenings and crowded on weekends as locals descend on the fields, beach, jogging and bicycle trails, and activity centers to meditate, play, bond and exercise. We wouldn't mind living near this green stretch if we ever needed to move to Singapore!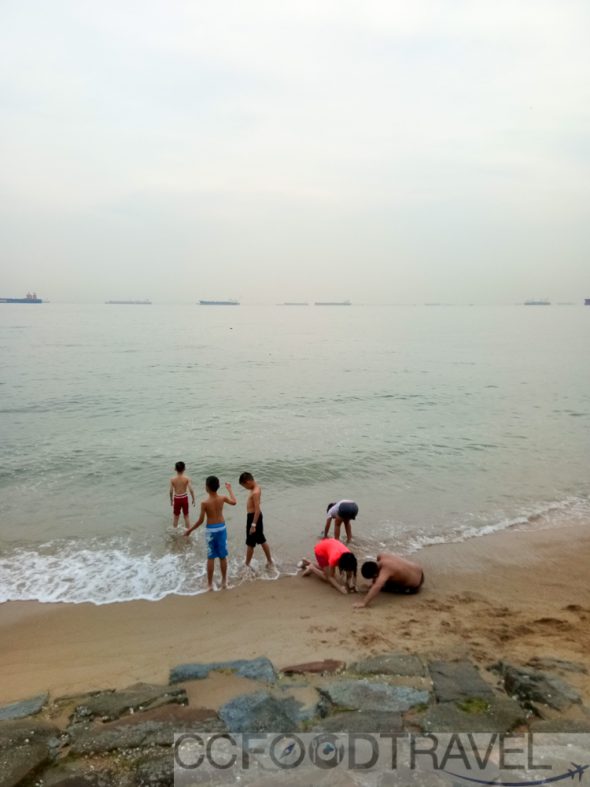 While in Katong, Grand Mercure Roxy had us stay at their property to experience their services. We were given the Junior Suite which was very roomy for the three of us.
The mini kitchenette feature in the living room area had been a convenient when we needed to prepare some food for the little one.
Built 17 years ago, the hotel might sound a little dated but a renovation 4 years ago gave it a facelift to meet modern times. There is a contemporary appeal but not quite up to the fancier design standards of newer lodgings in the more popular areas.
We visited in May during a Peranakan buffet promotion at [email protected] and was impressed with the flavors and offerings. Normally local cuisines are not the best tasting at hotels but it was different here. They even had a pungent durian cake at the dessert section – something many hotels in the region would have avoided for the comfort of international guests. We could smell it all the way to the lift lobby! 😛
Executive floor privileges … can't complain. Loads of good food, wine and cocktails so baby was happy:P (kidding)
For steaks and western food,  we checked out Breez Bistro Bar, by the pool and gym.
Food here was average at best. Our burger arrived well done though we ordered medium rare. However, the portion was nice and big.
To summarize, here are 3 reasons why Grand Mercure Roxy would be an ideal lodging when visiting Singapore
 As a traveler, you get to explore Katong's neighborhood. Old architecture and old shopping malls that have stood the test of time – charming, different, one of a kind. It's all about uncovering the diamond in the rough and Katong has many spots for sure.
 This hotel offers great service, amenities and dining at probably a less hefty price than at Orchard Road.
You get to eat at the hawker centers where there are many popular stalls frequented by locals
. A short walk finds you to East Coast Park for exercise, frolicking by the beach, dine or just watching the local life in action.
One of the downsides though, is the lodging's distance from a MRT station. The nearest is 2+km walk to either Paya Lebar or Dakota MRT.
We really need to return to Katong and Joo Chiat area to spend more time wandering and taking in the sights, sounds and tastes. Oh don't worry Singapore, we will be back!