With only 5 days in Bali and half of which would be spent in Uluwatu.. time was not on our side. Not to mention the fact that it rained and rained every evening. Still there were some great afternoons of sunshine. Upon arrival at Ngurah Rai International Airport, we immediately headed out  by car to our first destination, Ubud.
Ubud is situated right in the middle of the island of Bali. For more than a century now, it has been the island's centre for fine arts, dance and music. While it once was a haven for wandering backpackers, artists and bohemians, Ubud is now a hot spot for literati, glitterati and art connoisseurs but of course also for regular holiday goers like us. The town was originally important as a source of medicinal herbs and plants. Ubud gets its name from the Balinese word ubad (or ubat, meaning medicine).
Here are our 8 things to do in Ubud, which are by no means exhaustive but if you are pressed for time, great things to look out for.
1. Walk Along Hanoman Street
Starting in  front of the Ubud Royal Family Palace, start walking and checking out the gorgeous boutiques that pepper the area. This was perfect for the shopaholic in  me. Everything from contemporary, stylish goods to typical Indonesian clothing and handicrafts, with prices which can sometimes be negotiated in a less frenzied atmosphere than the central market, you name it, they had it. A lot of variety is packed into each single, artfully designed shop and things can seemed a little too commercial sometimes but hey, times, they are a changing and Ubud looks so much more trendy these days than say 5 years ago. Enjoy bargaining for your loot.. it's part of the process.
2. Eat Babi Guling at Ibu Oka
Sandwiched in between Ubud's central banjar and Jl. Suweta's upmarket shops and restaurants stands the legendary Ibu Oka's Warung Babi Guling. The food stall has stood here for the past 20 years, serving up what many say is some of the best roast suckling pig on Bali. How did Cumi and Ciki like it? Well, Ciki found it delicious and Cumi said it was pretty OK, but slightly overpriced. We don't know if we arrived late, but for a rather small portion of the world renown pig , some vegetables, two small sausage cubes and just ONE serving of skin/pork crackling, the set meal set us back by more than RM20 bucks per head.
Back in 2006, when Cumi & Ciki were here last, we had babi guling in the Kintamani region and that only set us back by Rp12,000 (RM4) The Babi Guling at Ibu Oka is undoubtedly soft, supple and delicious.. but overpriced. That's what you get for eating at the legendary as opposed to the undiscovered.
Add: Ibu Oka
Jalan Tegal Sari No 2 Ubud Tel: (62-361) 976 345
3. Lose yourself in culture
The ARMA Museum, the Neka Art Museum and the wacky Atonio Blanco Museum are sights one must check out in Ubud. In the south of Ubud you can find the ARMA museum, which stands for Agung Rai Museum of Art. This is the place to go to learn about the history and styles of Balinese paintings. Besides a museum, ARMA is also a cultural center where theater performances and cultural workshops are held together with painting, dance and music classes.
Ubud has over the years acquired a reputation as an art mecca. It is easy to see why this quaint and quiet town is thought of as an "artists' village" but today it is more of a township as people have increasingly seen Ubud as a place to live. Some believe the extent of this influx is actually jeopardizing Ubud.
Another gem to be found within Ubud, is undoubtedly the Neka Art Museum. The Neka Art Museum was established by Suteja Neka, a former schoolteacher, in the mid-1970s. Today it is an established and respected center for Balinese art. It is often referred to as "the heart of art in Bali". Some of the highlights within the Neka Art Museum include a pavilion within a courtyard in the museum grounds. This pavilion also houses works of art including a large statue of Ganesha. Within the pavilion are a number of traditional instruments and from time to time you might here the chime of gongs and gamelans as soft Balinese sounds waft on a breeze through the galleries. Gorgeous!
The Antonio Blanco Museum is a homage to Bali's famous Catalan expat. Born in the Philippines, Blanco arrived in Bali penniless, but eventually befriended the king, married and had children. He was the confidant of many powerful people on Bali and in Indonesia. This grand gallery houses a collection of his baroque pornography that depicts Blanco's own sexual romps! Some paintings feature Blanco's raunchy prose poetry. The museum grounds are a bit wacky, with Blanco's dachshunds, monkeys, and exotic birds seen all over the place.
4. Eat a "dirty, dirty duck" at Bebek Bengil
Dirty duck, dirty duck.. what's in the dirty duck? Bebek Bengil a.k.a. Dirty Duck Diner, is the best place to try Ubud's famous dish.. a simple deep fried duck dish that is so tasty and crispy it will have you begging for more. First stewed in local spices, then deep-fried, the duck here is pretty delicious and not quite as oily as some places but again, our main complaint was the size and portion of the meal. When the waiter said HALF a duck for you is fine, I nearly passed out. How on earth can Ciki eat an entire half duck all on her own. When it was served, the portion was so small I could have eaten two half's. As in a whole duck, all on my own. Hmmm, Bali fowl are really puny.
Top L – R:  Nasi Campur a.k.a. mixed rice, Bebek with Chili, Peanut Chili sauce, Shallot and Chives sauce, Bebek Bengil
In Kuala Lumpur, the duck could be 3 times the size! Another way to go is the stuffed chicken with shiitake, sprouts, and spinach. The menu also features salads, sandwiches, and veggie options. The peanut Chili sauce was a big hit. Not too spicy, it had a rich flavour and aroma. We have not had anything like this in Kuala Lumpur. We managed to get a gorgeous table located deeper in the back of the restaurant which looked out onto the paddy fields. Very nice ambiance. We heard many a cry of the gecko and our friend from Bali told us that if the gecko cries and you listen closely enough, you can actually make out a 4D number in the cry of that lizard. Also, children are superstitiously afraid of the cry of the gecko.. yes, no, yes, no, YES! You will pass our exams! Even cries for bad news, and Odd cries for good!
Add: Bebek Bengil Restaurant (Dirty Duck Diner) Address: Padang Tegal, Ubud. Phone: (62-361) 975 489 Fax: (62-361) 975 546
5. Visit the Monkey Sanctuary
The Ubud Monkey Forest is a nature reserve and temple complex in Ubud, Bali. It houses Crab-eating Macaque monkeys, of the Macaca fascicularis genus species. There are four groups of monkeys each occupying different territories in the park. The Sacred Monkey Forest is a popular tourist attraction in Ubud and also contains at least 115 different species of trees. The Monkey Forest contains the Pura Dalem Agung Padangtegal temple as well as a "Holy Spring" bathing temple. Within Balinese Hinduism, monkeys play a pivotal, almost sacred roll. The dual nature of monkeys is especially reflected in the Ramayana (a very popular Indian epic poem) – isn't the fight between good and evil an ongoing theme for so many things in life? For Malaysian who are used to seeing these friendly creatures, it really reminds us of home. Some may find these monkeys vicious, but we are totally at ease with these cute creatures.
6. Stay at Payangan Hideaway
For those of you who left Kuala Lumpur or your part of the cosmopolitan looking for some peace and quiet from the screaming traffic and pollution, this has got to be the place for you. The Payangan Hideaway that is only a year old, is about 30 minutes outside of the town of Ubud. Located in Ubud district, Payangan is a sub district in Gianyar Regency. If you are a nature worshiper, the seclusion of Payangan area is the closest one will get to a "silent green retreat" or perfect for getting away to do some inspirational writing/blogging. The story surrounding this place was that once upon a time, a royal Chinese family brought lychee and bananas to this community and you can spot a lot if these trees in its surrounding area . Plush villas overlook the relaxing lush green padi fields and make a good place to relax at, after a tiring day of shopping and sightseeing in Ubud.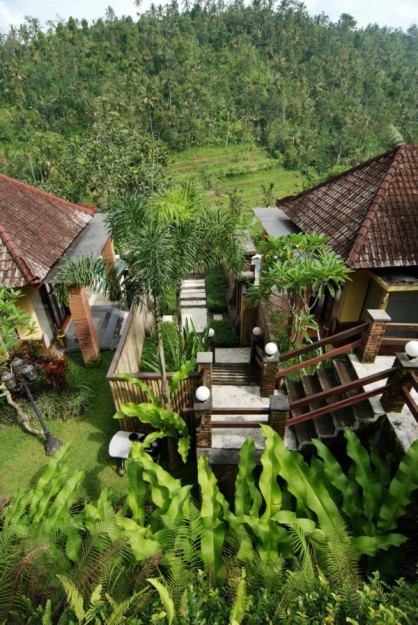 The amenities include a restaurant that serves up superb local and western cuisine (Cumi loved the pasta and I loved the breakfasts and the nasi ayam bali!), a common swimming pool, or the option of your own private bungalow pool (high end on the price range) plus luxury massage services too. The staggered terrace lay out of the Villas also allows for a short hike down to a lovely river at the bottom of the valley. Totally gorgeous and serene surroundings that will make you forget the city life. One word of caution, if it rains and rains in the evenings (like it did for us), it is advisable to rent a car so that you can move around, as the Villas are located in the nethermost regions of the paddy-fields and getting out to Ubud town can be a bit of a performance. However, a supir (driver) and car are most easily arranged for you by the staff who are friendly and really helpful. It can get a little musty in the Villa if the weather is wet, as the Villas are located out in the padi terraces, so we recommend you go during the hot/dry season (middle of the year). All Villas come with it's own kitchen so you may choose to cook your own dinners if you like.
THE PAYANGAN HIDEAWAY, UBUD VILLA, BALI
E-mail     :     
[email protected]
Phone     :     +62 (361) – 746 2268
Address     :     Dusun Selasih, Desa Puhu, Kecamatan Payangan, Ubud 80572
Contact Person     :     Jelyn
7. Massage that fatigue away
When all had been seen and done, and every last muscle screamed for rest, massage is the one thing on our list! For just Rp 50,000 you can get a 1 hour body massage in Ubud at any one of the shops along the main-street, Hanoman. It is inexpensive and clean enough. The skill of the masseuse might not be 5 star but it gets the job done. Opt for a foot massage if a full body massage is not your thing.
8. Mingle with the village folk
Mingle with the village folk and see how they really prepare babi guling, kampung style. Play with the kids and catch them in action whilst your at it, afterall, isn't that were the true spirit of Bali resides?
Next stop.. Uluwatu and the beach!