Inception, the latest piece of work from director Christopher Nolan will keep you on the edge of your seat for the entire 2.5 hours of the show. Initially I was dubious.. EVERYBODY was raving about it and I was so sure I'd hate it.

The plot –  A team of dream raiders are able to infiltrate a person's subconscious to not only steal their ideas, but even possibly plant one.
Leonardo DiCaprio, a.k.a  Cobb, the leader of some dream raiders including the very cool Joseph Gordon-Levitt are hired by Saito (Ken Watanabe) to see if they're any good.
When Saito is satisfied with what he sees, he hires the team to enter the dreams of Robert Fischer (Cillian Murphy), his corporate rival with the intent of planting an idea in his head that could topple Fischer's business empire, and consequently Saito's competition. Cobb hires a whiz kid architect, Ariadne (Ellen Page), to help design a multi-tiered dream world that will enable the team to implant an idea deep enough, to take root in the recesses of Fischer's brain. A dream within a dream within a dream. 3 levels of mind f***.
When Cobb walks Ariadne (Ellen Page) through a dream, explaining the physics of the subconscious, city streets fold upwards and on top of one another in jaw-dropping fashion.
Of course there has to be some sappy love story in there somewhere, and it emerges in the form of Cobb's ex-wife, Mal (Cotillard). As with most ex-wives, their sole intention is to terrorize and make the ex-partners life a living hell:P
What I disliked – well the love story of course between Cobb and Mal. I mean, sure he got to play a tragic-romantic figure in his scenes with Cotillard, scenes that contain high-octane emotional strength and all that jazz but did they really have to play it out that long?
Also, I wonder if Ellen Page realizes that she is getting dangerously close to being stereotyped as that "brainy" child-woman actress that she insists on playing over and over again.
The opening sequence where Cobb meets Saito for the first time was also lacking in impressive cinematography.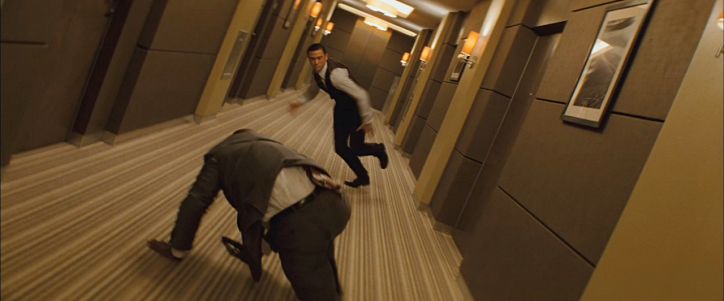 All photos via www dot filmofilia dot com
What I liked – the amazing fight sequence that occurred in the hotel in zero gravity. I used to think that Joseph Gordon-Levitt was a bit of a wuss but I tell ya, he really stole the show with his one man stunts against the odds. Very, very cool.
My other favourite guy in the show would be Cillian Murphy, an extraordinary actor. His portrayal of the emotionally scarred character Fischer looking for closure at his father's death bed, was heart-wrenching (the annoying Cobb – Mal scenes just paled in comparison) and I felt this deserved more praise than the tragic-romantic figure we see in Cobb. For me, Cillian stole the show.
Finally credit to Nolan of course, who turned this show into a helluva trippy masterpiece- "an idea that takes root and grows and grows.." should make your hair stand on end.
Conclusion – Inception is a crazy labyrinth of visuals and dialog, and seriously if you cannot follow 20% of the movie, it's because you are not suppose to. Half the fun of the film is trying to sort things out in your head after you've watched it. If movies are meant to transport you to another realm, make the impossible seem possible and leave you hankering for more, than Inception is all that and more. I suspect this film will be even better after a second viewing!