Introducing one of my ALL TIME favourite Italian restaurants. Nero Teca! Everytime I eat here , I forget to bring my camera (maybe it's because eating here is normally followed by a huge night out.. so I don't really want to lose my tres, tres precious 'point-n-shoot' or anything, you know :P). This time, I didn't forget.

Anyway, just look at this place.. isn't it NICE? Small and cozy, and has a deli-like feel to it…
We order the wine, and settle down to getting some food. (Incidentally, I love parma ham. This place does great parma ham. Really. It does.)
Hmmmm… everytime i look at the menu, I want to eat everything on it. My eyes go large, my stomach starts to grind… (Deep breaths… drink the wine.. order some food… that's right… :P)
The bread is fresh and airy and plump… it goes fantastic with the olive oil… I need to slow down or I will be stuffed before starters get here.
Where is it… i am starving….
…..
…..
Ah Viola ! The PIADINA! … Which is essentially parma ham (ooo yes.. THE parma ham!! bliss!), rocket salad, stracchino cheese and looks like a pizza. (The Piadina or Piada, is a thin italian flatbread, typically prepared in the Romagna province.)
It's gorgeous! Sometimes, I feel like having JUST this for my main course.. it's THAT yummie. Serious.
Gawd! I LOVE parma ham… just look at it! All smoky and succulent and porky ! lol. Incidentally this place is totally non-halal. Yup.
Ahh… just getting warmed up for the mains…
This is the SALSICCIA! Homemade, italian sausages in peperonata and potatoes !
Magnificent!
The sausages are air-dried so they are chewy rather than juicy. As the Salsiccia is typically an italian pork sausage that is neither smoked nor cured, they tend to have this meaty, basic, unprocessed taste to it. If you like your sausages with some BITE , this is it 🙂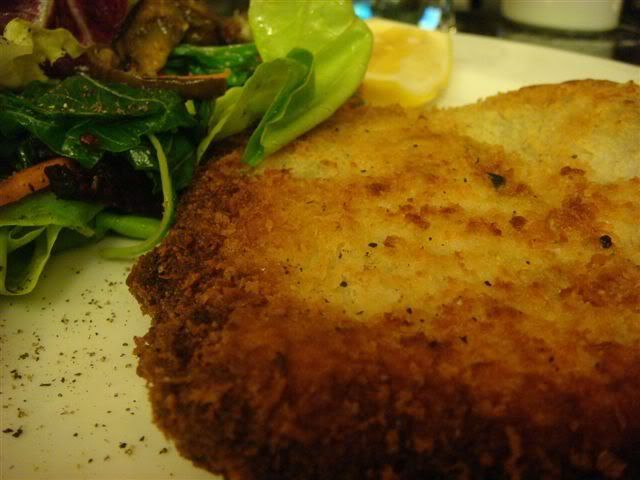 This is what I had… the BRACIOLA! (Don't you just love the way Italian's name their food.. it always sounds so g'damn sensational.. It kills me. )
Well, anyway, the Braciola is the pork chop milanese and is served with a mixed salad…
The pork is battered and dry, without sauce, but this is the way it is eaten. I normally drench mine in the olive oil.. and risk frowns from the chef… but.. don't care la..
Finally…
…No italian meal is complete without the PANNA COTTA:)
Panna Cotta literally translates to "COOKED CREAM" in italian. However, the chef assures me that here in Nero Teca, they use FULL CREAM MILK instead. So it is just as smooth but less heavy, though not any less "melt in your mouth" delicious ! This traditional italian custard is 2DIE FOR… go try it and say it ain't so 😛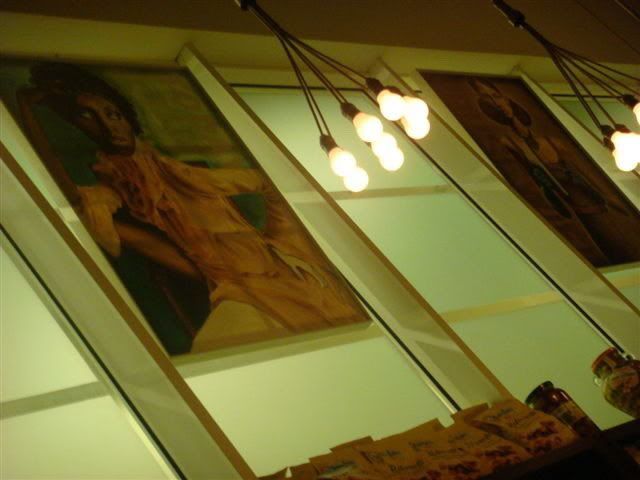 Ok.. time to get off the seat and go home.. I feel 5 pounds heavier and 5X times happier than when I arrived, a starving chick ;P
Will dream parma ham tonight.. i hope…
Venue:
ground floor, somerset
8 lorong ceylon
50250 Kuala Lumpur
Food:8/10
Wine:7/10
MSG levels : nil
Price : moderate (but the wine can substantially increase your bill, obviously)