How many times have I eaten at Hajime … and how many times have I been completely impressed??
….. countless times!!!
Hajime is tucked away on Jalan Damai (just off Jln Tun Razak ) further along the road behind the French Embassy…
These people know how to do fresh sashimi… Clean white concentric lines on the salmon tell me I have arrived ! ( Yeah baby… )
And just look at the paper thin Yellowtail Cappacio… sliced to perfection… doesn't the sheerness of it just kill you..!
With a deft hand, the expert chef flambes our DOCTOR'S ROLL!!!
(it's actually the salmon cheese maki) but affectionately known as the Doc's Roll… because it sends the Dr. running!!! No just kidding… because their regulars are Drs who love, love, love this roll 🙂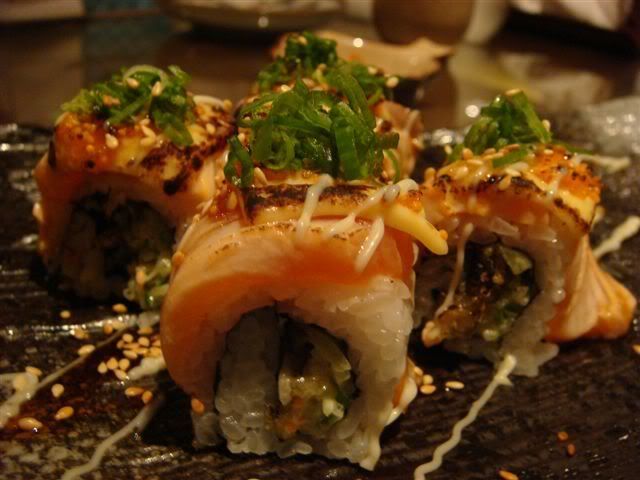 Viola !!! The end product! Are you impressed???

Some Spicy Salmon Salad… to counter-act all that cheese and keep your gut flora healthy…
And they even do pretty decent Chicken Nanban …. for those who can only do so much raw fish… (Their chicken taste fresh – no weird smell… i.e. not like tesco chicken:P)
And the superb Eringi Butteryaki… (fancy-schmancy name for mushroom)… that is just so tres, tres gorgeous it melts in your mouth like butter . Hence the name butteryaki!
The show continues! The experts move with grace as they bring out surprise after surprise…
This one's called the CRAZY GOMA ! (crazy sesame)
The man pounds, grinds, pulps the sesame in a frenzy… and this results in some amazing concoction…
The dip with which you eat your roll hits your nose and has that crazy kick you don't expect ! Hence the name… Crazy Goma !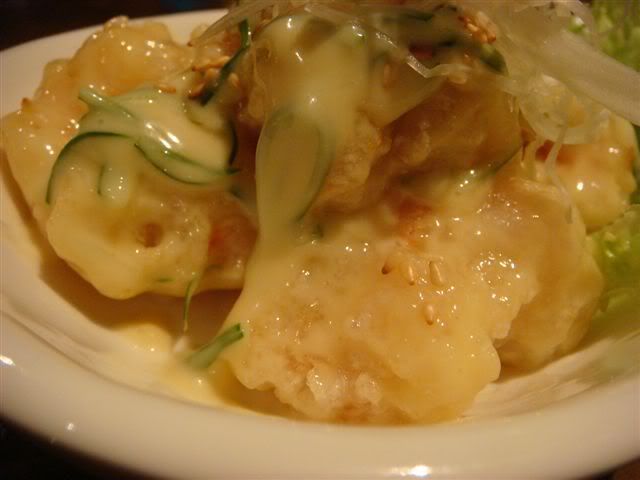 Another "melt-in-your-mouth-I've-gone-to-paradise" dish, the Ebi Miso Mayo. Fabulous prawn dish. Just try it.
And finally, almost as if lead by psychic powers, the chef knows not to overkill a wonderful meal by doing too rich a dessert for his guests.
This lime sorbet, ice-cream trio is light and refreshing and goes down well.
That's enough good quality Japanese to last me a while… i think…
Hmmm… maybe I'll come again next week 😛
Food : 7/10
Ambiance :7/10
MSG level : moderate
Service : Excellent ( the chef actually comes over to talk to you!)
Hajime,
No. 64, Jalan Damai,
Off Jalan Tun Razak,
55000 Kuala Lumpur